Council and police to clamp down on irresponsible owners
Related Links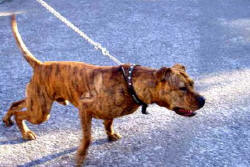 Participate
Comment on this story on the forum
Ealing Council has launched 'Dog Watch', a new initiative aimed at tackling dog-related anti-social behaviour and crime in the borough.
The council's Community Safety team is working with Ealing Homes and the police to clamp down on irresponsible dog owners. The scheme aims to reduce the number of dogs used to threaten or intimidate people and other animals, and cut the number of abandoned dogs.
Residents are being urged to email the Community Safety team about dog-related anti-social behaviour, helping council and police officers to tackle issues in specific areas as quickly as possible.
Councillor Ranjit Dheer, cabinet member for Safer Communities, said: "We will not tolerate irresponsible dog owners in our borough. Community Safety officers will work with the RSPCA and other organisations to make sure our parks, streets and communities are kept safe and that the animals are properly looked after."
The council will also be helping responsible dog owners by offering to implant more than 1,000 dogs with free identification microchips over the next year. If a dog is abandoned, or involved in anti-social behaviour, the chip can be used to identify the dog and its owners, making it easier to take enforcement action.
To report a dog-related incident and for more information about the free dog chipping, email dogwatch@ealing.gov.uk or call the Community Safety team on 020 8825 7600.

23rd February 2011