Ealing police are appealing for help in tracking down two people in relation to a violent assault on Ealing Broadway which occured last month.
A 26 year old man was involved in some form of altercation with a group of men inside the nightclub and all parties were evicted from the premises by security staff. Outside the venue the victim pleaded unsuccessfully to get back in and, as he went to get a cab home, he was assaulted. The victim sustained lacerations to the forehead, bad bruising and was taken to New Ealing hospital.
The incident took place outside the Priory Night Club at 1.15am on 27th March 2004. Individuals involved were captured on CCTV cameras.
The male pictured right is suspected of involvement in the assault and the female pictured below is a crucial witness. It is hoped members of the public will be able to assist in identifying the suspect and witness so they may be questioned about the incident.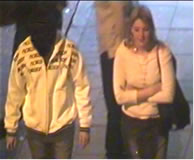 Female witness with one of the accused

One suspect was arrested close to the scene of the incident and subsequently charged with Grievous Bodily Harm. He appeared before Magistrates court on 29th March and is now currently on remand in Custody to appear at Isleworth Crown court in the near future.
A second suspect was arrested on 9th April 2004 and charged with Grievous Bodily Harm. He appeared before Magistrates court on 12th April and was released on conditional bail to appear at Isleworth Crown in the near future.

Anyone with information about the incident, the identity of the suspect or the witness should contact the DC Rob Learney in the CID Office at Southall Police Station on 0208-246-1162 or to remain anonymous, call Crimestoppers on 0800-555-111.