Major changes and price increases for 2012
Related Links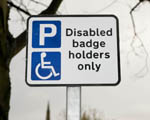 Participate
Comment on this story on the forum
The cost of blue badges - for people with mobility problems - is going up from £2 to £10 and there will no longer be a local counter service providing assistance to applicants.
Under the new system, which is a nation-wide reform, Ealing Council will process the applications and decide who is eligible but the blue badges won't be produced in the council offices.
There is a new application form and badges will be produced by an external company selected by the Department for Transport. The badges will look different to the current badges and will be designed in a way to reduce fraud.
Applications that automicatically qualify for a blue badge can take up to 10 working days to produce. Those that require further assessment will take longer.
Residents should submit applications at least 28 days in advance of their current badge expiring.
Ealing Council say they will be writing to all Blue Badge holders who need to renew their badge over the next few months. Any other existing badge holders do not need to reapply for a badge until it is due for renewal.
It's believed the new system will provide a better service to blue badge holders while also making the scheme more resistant to fraud.
It will however take longer to process the badges and nationally the cost of a badge will go up.
Because of these changes to the scheme, Ealing Council will no longer provide a face to face blue badge service.
To apply for a badge, residents should complete an application form and post it to the council along with all supporting documents. Application forms are available on the council's website:
The fee for a new badge, including renewals, will increase from £2 to £10 for all badges valid on or after 1 January 2012. This is the first increase in the charge since 1983. Badges will still be valid for three years unless specified.
The Department for Transport will also launch a new online application process on 1 January 2012.
Sucessful applicants can collect their badge in person from the council's customer services once the badge has been produced. Applicants will be asked to pay for their badge by cash or cheque on collection. If an application is unsucessful, applicants will receive written notification with the reasons for this decision.
Further information is available on the council's website: www.ealing.gov.uk/bluebadge
Further information regarding eligibility for Blue Badges can be found on the Department for Transport's website

22 December 2011