A new loyalty card to help businesses and residents
Related Links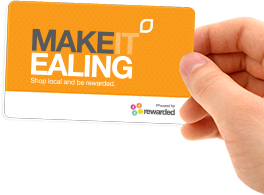 Participate
Comment on this story on the forum
Ealing Broadway BID, the business partnership working to revitalize the commercial district, is launching 'Make it Ealing', an exciting new free digital loyalty scheme across all of your favourite restaurants, beauty salons, hairdressers, shops and more in Ealing Broadway.
Make It Ealing is a fantastic new way for local shoppers to enjoy great discounts, promotions and offers across a broad range of businesses in Ealing, with just one card.
The scheme has been successfully trialed in five businesses, attracting 1940 customers in just 7 weeks, recording 5539 visitors and generating over £53,000 spend. Special weekly promotions via the loyalty card have driven up to 20 new customers to member businesses, and has saved them money too.
Make it Ealing is launching in up to forty businesses in May with two street market events in the town square of Ealing Broadway shopping centre on 11th May and 17th/18th May, showcasing the best of the participating businesses with live demos and top quality food.
There are exciting plans in the future to expand the scheme outside Ealing Broadway and even integrate functions like town centre parking into the system, providing free parking to consumers if they spend locally.
Raef Hamze from Karaam said: "Previously I have run a number of different promotion schemes to attract and retain my customers, including special discounts, flyers and advertising. Since I've been using Make it Ealing, I have managed to drive more footfall, reduce advertising costs and increase my margins, whilst also passing on better value to my loyal customers. It's been fantastic!"
Matthew McMillan, Chief Executive of Ealing Broadway BID said 'High streets need to be fighting ever harder to provide a world class experience for our customers. Make it Ealing is a fantastic scheme which drives real value to both consumers and our businesses - one business has already reported they are increasing profits by over £500 a month'
Emma Hartley, a happy Make it Ealing customer said
'I love my Make it Ealing card. I can collect points for great prizes and it tells me about new businesses in Ealing that I didn't know about. So far I've had 2 free coffees and a free lunch in the past month!'
To find out more about Made in Ealing, please visit www.makeitealing.com or contact Helen on 020 8231 2423

+ Advertorial +
8th May 2013