Santa Maria - latest pizzeria to open
Having recently been converted to the joy of pizza at Eatalian's on St Mary's road I was surprised to see another authentic pizzaria had opened just across the road. With Carluccio's and Osteria Del Portico also close by in Ealing Green I wondered if this latest could be an Italian too many.
I needn't have worried. Santa Maria, right next to the Red Lion pub is extremely well situated in what's rapidly becoming Ealing's 'Little Italy' area. It may be smaller than Eatalian but judging by the crowds it is proving just as popular. As well as being packed inside there were a steady stream of customers coming and going - picking up takeaways.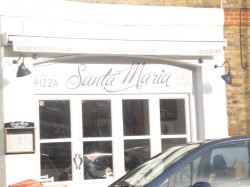 No seats were available inside so we sat at the small table outdoors. Fortunately the rain held off.
My companion opted for the Santa Caterina - a salami mozzarella combo,(£6.95) and I had the Santa Bufalina (£7.65) which, with the extras of mushrooms and olives, cost an additional £2.20 - a little on the pricey side I thought.
Nevertheless both dishes were delightful - crisp, light and totally moreish -a million miles away from the tasteless insult described as pizza often served up by many other cafes and takeaways.
The fresh basil was aromatic and the olives deliciously salty. Watch out for the chillis on the Caterina though - they're lethal!
I gobbled mine down quickly, my friend wasn't quite as hungry (maybe it was the chillis) ate half and decided to take the rest home.
Pizza originated in Naples which the friendly Napolitan owners of Santa Maria were only too eager to point out. They are not fearful of any 'competition' especially from the Roman Eatalian's.
I sense an imminent Pizza Wars breaking out!
Oddono's award winning Gelati had to be sampled and whilst I drooled over the scoop of pistachio my companion chose the lush chocolate which she likened to eating a 'rich creamy bowl of dark choccy heaven.'
Two lemonades plus one expresso brought the bill to £23.75.
So Eatalian's or Santa Maria? Which has the best pizza?
I'm going to totally sit on the fence I'm afraid. Both restaurants serve pizza cooked in wood burning ovens - and both are delicious.
You will have to decide for yourself.
Annemarie Flanagan
March 1st, 2010