Win a table for four at the new Churrasco restaurant
Related links

A Brazilian welcome as Fogo opens for the first time

A Passador carves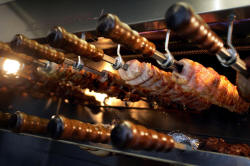 Selection of meats
Fogo
45 The Mall
Ealing

W5 3TJ
Participate
Find out what others think of local restaurants on the forum
Fogo - a Churrasco (bbq) restaurant inspired by traditions that date back to 19th century Southern Brazil - has opened its doors in Ealing.
This new 100-seat restaurant is at 45 The Mall on Ealing Broadway - previously Mamma Amalfi. It's had a big makeover; £100,000 has been invested and around 26 jobs created.
Fogo - which means fire in Portuguese - aims to provide a fusion of flavours from across the globe, offering dinners a varied selection of freshly prepared salads, cous cous, rice, pittas, chips, warm bread and dips.
Passadors (meat carvers) continually carve various cuts of meat, poultry and freshly roasted vegetables directly from swords to your plate.
Proprietor, Nick Lebetkin who has been in the hospitality industry for more than three years says he spent a lot of time researching the market and Ealing came out on top:
''Ealing boasts a strong community network and it has a good vibe about it. But it hasn't got the food offering it deserves. Fogo is going to change that, shake things up a little and bring some global flavours to the UK's tastebuds.''
He says he is passionate about food and travelled the world looking for inspiration for his new project.
"There is no other dining experience that compares to Fogo - it brings a taste of Brazil to the UK - infused with a European twist. Our emphasis is on quality meat products accompanied by freshly prepared side dishes such as salads, rice and cous cous, all served in a theatrical setting at an affordable price."
Nick is so confident the concept will work he's already planning on expanding throughout the UK.
Meat Heaven - Veggie Hell? Opening Night Review
History of Churrasco
Churrasco - traditional South American Food Churrasco (pronounced shoo-rhas-co) has it's origins in 19th century Southern Brazil.
There, groups known as Gauchos lived in lush grassland regions. Often - particularly in times of celebration - they would prepare feasts like barbeques. In the absence of more sophisticated equipment, they would skewer large pieces of meat cook them slowly over a wood burning fire.
This produces slow cooked tenderness and richness of taste, still savoured hundreds of years later.
Derived from both Spanish and Portuguese words meaning to scorch or singe, Churrasco could be argued to mean barbeque.
Win a table for four at Fogo
One lucky winner, plus three friends, will get the chance to enjoy Fogo's offerings with this great prize.
For your chance to win simply answer the below question: Which country has inspired FOGO is it: a) Belgium b) Brazil c) Belize
send your answers to editor@ealingtoday.co.uk by December 2nd - winner announced on December 3rd.
you must be a member of Ealing Today to enter so Sign up for EalingToday's free newsletter
November 23, 2009