Ealing's latest restaurant - Eatalian
To be quite honest I've never been a big fan of Pizza.
I have tasted too many doughy, bland or nondescript versions so it's rarely a first choice when out for a meal. But, a little bird told me I had to try out Ealing's newest pizzeria and promised I would never say a bad word against this ancient flat bread dish again.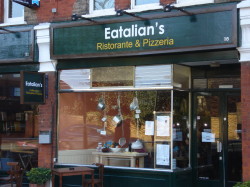 Eatalian's on St Mary's Road takes the place of the Portuguese restaurant Oporto and, although only just opened it was doing a brisk lunch time trade when we visited. It seems word has already spread.
My companion insisted on calling the restaurant Eat an Alien and thought it hilarious - but as he is only eight I guess you can forgive him.
I ordered an avocado,tomato,and mozzarella salad as starter (£4.50) and was pleased with both presentation and attention to detail. The Tuscan olive oil and sprigs of basil reminded me of days gone by and sunny Mediterranean holidays. The tomato's were fresh and juicy the avocado ripe and creamy, the mozzarella - just delicious.
But the Pizza was perhaps the main attraction. Sergio - the Roman owner - told me a customer had been in the previous day and eaten three of them!
There are 13 different varieties as well as four 'White Pizzas'. These are pizzas without the tomato base so you can see the dough.
I opted for the traditional with grilled vegetables (£7) and my son went for his usual pepperoni.
The base was crispy and light (it's made with olive oil and baked in a wood burning oven) and the topping filled with just the right combination of tomato, chewy melted cheese and flavour packed vegetables.
Previous pizza experiences have often left me feeling unpleasantly full and stodgy - but not this. I could almost understand why that customer managed to eat three of them. Real Italian.
My son licked his fingers and declared his to be 'yummy' - high praise indeed. He had his eye on the puddings though so couldn't finish all but that wasn't a problem. Sergio arranged a box for him to take the rest home.
Italian chocolate and vanilla ice cream (£3) for the son and a chocolate pyramid with ice cream (£4) for me along with a power packed expresso (£1.30) rounded up the meal nicely.
Eatalian's is also a coffee shop serving breakfast and cakes. It strikes me as a very relaxing place to sit and read the papers (Italian available) and imagine you're in beautiful Rome. Takeaway is available.
Eatalian's is a very welcome addition to St Mary's Road.
I'm a convert!
Total bill ( including 2 lemonades) = £35.90
Annemarie Flanagan
January 30, 2010