Review of Côte - Ealing's latest restaurant
Related links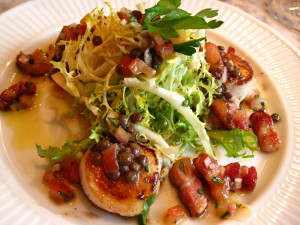 Seared scallops with bacon lardons and puy lentil, tomato and garlic dressing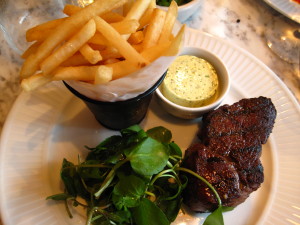 Steak and chips (garlic butter sauce)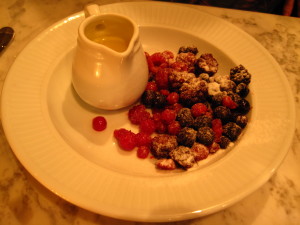 Iced summer berries with warm white chocolate sauce
Côte Ealing
9-10 The Green, High Street,
Ealing, London W5 5DA
Tel: 020 8579 3115
Email: ealing@cote-restaurants.co.uk
OPENING TIMES
Monday to Friday 8am to 11pm
Saturday 9am to 11pm
Sunday 9am to 10.30pm

Free WIFI available
Carluccio's Restaurant Has a New Look
Happy Anniversary Charlotte's Place!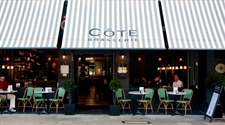 I always like to give a new restaurant a bit of time to settle down before trying it out - just in case of any teething troubles.
I needn't have worried.
Côte Brasserie opened just over a month ago but already seems well esablished and looks set to become a welcome and popular eating out destination in Ealing.
It's location - The Green - has to be one of the best in town and the redesign (it was formerly The Green Pub) has been executed exceptionally well.
The roomy and comfortable interior is stylishly decked out reminiscent of a Parisian brasserie, and the atmosphere is similarly laid back.
Côte is open for breakfast, lunch and dinner and my partner and I were invited to try out the newest restaurant on the block and opted for an early dinner.
Arriving at 6pm on a Saturday evening we were seated, given a refreshing apéritif (kir royale) and sat and watched as the diners demographics changed as the night drew in.
Families with babies and toddlers vacated their seats for couples and older families. Lights were dimmed and candles placed on tables as the restaurant moved from daytime to evening and the ambience became sophisticated yet warm and relaxed.
Pleasant ambience is key to a good meal out but what of the food?
I am very pleased to report c'est délicieux!
For starters I opted for the Smoked Salmon (£6.25). This beautiful and generous pink display of Scotland's finest came with with dill, shallots, baby capers and crème fraîche dressing. The flavours complemented each other beautifully it was creamy and satisfying - I was in heaven.
My partner choose the the seared scallops (£7.80) – which were delicately cooked and melted in the mouth (having nabbed a bit I can vouch for this). They came with salty bacon lardons and a power packed puy lentil, tomato and garlic dressing which added the taste interest to the dish. He quibbled that he would have liked more scallops (he got three) - but I reminded him this was only a starter!
After getting off to such a great start we were curious whether the mains could match. The menu isn't huge but there is sufficient choice for all palates. The cooking is a modern approach to French classics - steak frites, moules marinade, and duck confit.
Being a non-meat eater I was pleased to see a good range of fish dishes available.
I thoroughly enjoyed the Roast Seabass (£13.25) which came with a braised fennel - a vegetable that is much neglected in cooking but adds a tremendous flavour - and a champagne beurre blanc with chives and tomato concasse. A side dish of green beans which were cooked al dente - made me very happy indeed.
My partner, a total carnivore, raved about his fillet steak and chips (£17.95) again cooked to perfection - medium rare just as he ordered. The chips were crisp, hot and fluffy on the inside. He said the fillet was tender and very, very tasty.
We washed it all down with a bottle of the Macon-Villages 2009, Cave De L`Aurore
which was creamy and smooth and very quoffable. At £24.50 it may be a little pricey but Côte has a suberb range starting from the very reasonable £13.95 and going as high as - if you really want to push the boat out - £69.00 for a Château Talbot 2006, St. Julien.
A selection of cheeses for him (Roquefort and Reblochon served with bread and grapes £5.85) and Iced summer berries with warm white chocolate sauce ( £4.50) for me , an expresso and a refreshing mint tea completed our very enjoyable dining experience.
Manager Roger Davy chatted to us after the meal and said the restaurant was already becoming very popular. He advises booking for weekend evenings.
Roger and his staff have to be commended for their excellent attentive service and of course I have to send my compliments to the chef.
Overall it was a very pleasant dining experience and I wouldn't hesitate to recommend Côte - a very welcome addition to Ealing's eateries.
Annemarie Flanagan
September 28 2010