Who can resist a teddy?
It's always a bit of challenge knowing what to do for a 'tweenager's' birthday. They're at that difficult age; too old for birthday parties at home, but not old enough to go out alone. So, what do you do with them?
My daughter recently celebrated her 11th and wanted to hang out at the shops - without adult supervision - with her friends. I however wanted something more age appropriate, could we ever reach an agreement?
A compromise came that suited us both when we were invited to try out a Build-A-Bear workshop, our closest being at the Westfield shopping centre at White City.
The idea is very simple and rather clever - and one that has won the American company founder Maxine Clark many awards and no doubt has also made her lots of money.
Perhaps it should be called Watch-A-Bear-Being-Built (although this is obviously not nearly as catchy) because the basic gist is choose your bear (or other fluffy type creature) and watch it on its journey, being stuffed and dressed and made ready to take home.
Before it's stitched up you can pick a voice, make your own recording or add a sound. The girls liked the heartbeat, which was actually quite restful in the bustling store.
A fabric heart is placed inside and a wish made and then 'Ted' is all sewn up. The girls enjoyed choosing names (Hippie and Dizzie if you are interested) typing the details into the computer and getting a printed out 'birth' certificate.
The American influence is apparent throughout with the 'bear associates' (think Butlins Redcoats) encouraging everyone to shout and cheer at various stages of the bear's development. The ' associates' (Bradley was ours) help make it a lively, fun and rather quirky occasion.
It's a noisy and full-on experience but because it all happens very quick it is bearable (did I really write that?)
Despite them being 'oh so cool', primary/on the verge of secondary school girls, the girls loved it. They reverted to being real children again, and, to be quite honest, it's hard not to in a shop like this.
The dressing up section was packed with adults and youngsters all oooing and arhing over the dinky little skirts, dresses and sunglasses. Deciding on the clothing and accessories is probably the longest part of the whole procedure because there are so many different outfits and extras to look at.
It would be very easy to spend a small fortune but it can be done within budget if you remain firm and don't crumble at the cuteness of it all.
You can buy mini furry friends for £4 or teddies for £19 or specialist ones for even more. The accessories add to the bill but again can be bought within reason.
Leave your cynical friends at the door before you go in to Build -A- Bear, get into the spirit of things and, by the end, you won't cringe quite as much when you have to make the very American style 'pledge' and vow to the whole store that you will look after your new furry delivery.
Building a Bear is an activity which just about everyone will enjoy.
They are great presents and best of all there's a bear for every occasion and to suit all personalities.
Who can resist?
How about this one? Or maybe this? You can't tell me this isn't cute?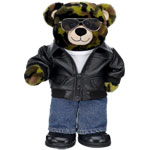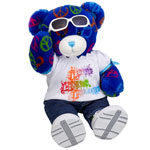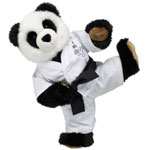 Annemarie Flanagan
With thanks to Build-A Bear
May 26th, 2010