North Star Pub Ealing - Review
Related Links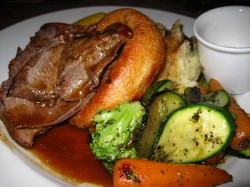 Roast Beef (and all the trimmings)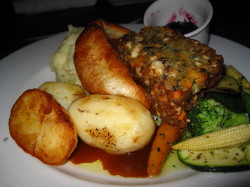 Veggie delight - The Nut Roast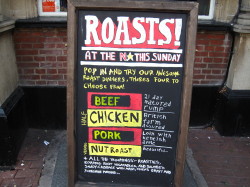 The North Star ,43 The Broadway, W5 5JN tel 0208 579 0863
Participate
Sign up for our free newsletter
Comment on this story on the
What makes a great Sunday Roast?
I find getting someone else to cook it is always the best starting point. So, with this in mind I had this plan for a mini-series whereby I would go off into the wilds of W5 and W13 (well a few pubs anyway) in search of the perfect Sunday roast.
Alas, my great idea may have come to a premature end.
The North Star on Ealing Broadway isn't somewhere I previously associated with good food, but it certainly will be from now.
Originally a beer-shop, the pub took its name from a famous GWR locomotive to emphasise its proximity to the newly built Ealing Haven Railway Station, now Ealing Broadway Tube and BR station.
Situated so close to the Broadway station it has always gave me the impression of being a rather quirky (by Ealing standards) drinking den.
However, a recent recommendation via twitter (it is useful sometimes) pointed me in the direction of the pub for Sunday lunch and so my partner and I got to experience a generous portion of foodie heaven.
Being a non-meat eater my option was the ubiquitous nut roast. My heart sinks when I see this is the only veggie option on the menu. Having tried too many dry, tasteless ones, I wasn't excited.
However I was more than pleasantly surprised - this nut roast complete with side dish of tangy beetroot chutney was an utter delight. Nutty (naturally) but very tasty and just the right consistency - not too soggy or dry.
Carnivores have more choice; chicken, pork and beef. My partner opted for the 21 day matured rump of beef with horseradish sauce which he declared to be 'absolutely delicious'.
The mains were accompanied by a huge variety of vegetables perfectly cooked al dente fashion. We had roast potatoes, spring onion mash, Chantenay carrots, broccoli, courgettes, baby corn, sugar snap peas, Yorkshire pudding and gravy.
I get the impression the chef understands that vegetables are not just for decoration.
The two dishes were comforting, tasty and plentiful - the equivalent of being wrapped in a big warm duvet on a cold wet day.
Washed down with a bottle of chardonnay it's fair to say we were completely satisfied, perhaps too much so as there was absolutely no room left for the very tempting puddings which included brownies, pavlova and cheesecake.
At £8.90 for mains and desserts starting at £3.50 the North Star represents very good value for money. The bill for two (including drinks) was just over £36.
And best of all...no washing up!
Verdict?
A great Sunday Roast
Minus?
Another veggie option would be nice
Go Again?
Yes - as soon as I can!
Annemarie Flanagan
October 18, 2009
What's your opinion? Are there any pubs/restaurants you would recommend?