Riots were beginning of nightmare for owner of Asian fusion café
36 year old business owner, Zakar Hussain, is set to re-open his doors on Friday 31st May, for the first time since riot fire damage destroyed his shop on the 8th August 2011.
Meena Toor finds out more about what happened since the riots and what we can expect from the new Green Mango Café.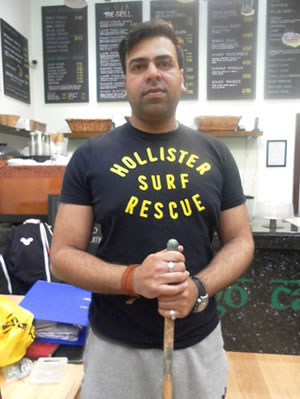 Zakar Hussain
"You must have fire proof walls and doors. A fire will only remain in a certain area, for a certain period of time, behind these. After that, it will spread," says Zak, as we discuss the recently installed fire alarms for the refurbished Green Mango Café.
Zak has all the right fire knowledge, but nothing could have prepared him for the fire damage that happened on the night of the riots. Green Mango Café was trading for four months. Zak's fusion Asian café – serving street food, wraps and milkshakes – was performing well and he was hiring new staff:
"I was training a lady to work – it was first day – and my eldest brother called me. He warned me about the riots in Tottenham, and said there were rumours on social media of riots in Ealing.
"On the day, the police warned us to close early and I locked up, put the shutters down and the alarm on, and thought no more about it. I thought I would be a low risk business for looting, as I only sold food."
At the time, Zak lived in Langley, and he woke the next day to another phone call telling him that this shop had been seen on the television, in flames. It turned out that neighbour, Ealing Green Local Supermarket – now a SPAR – was looted and set on fire, which spread to Green Mango café through the adjoining wall.
"My family were really proud of what I achieved. I paid for every single thing. After the fire, there was no roof, no electricity and all the stock was ruined. All the money I spent building the café was gone.
"The next year was a nightmare. I had problems building. I was lacking funding. The insurance had a loop hole and I didn't get all of the damage costs covered.
"My life turned up-side down in 24 hours. I had to put my home on the market, well below the asking price, so I was homeless."
During the rebuild, Zak experienced delays gaining access from landlord Pathways, as well as delays with the legal paperwork and building work. This prevented the planned opening at Christmas in 2012.
However, with all work completed and the legal paperwork confirmed, Zak is looking forward to a new chapter in the café's history:
"I just want to get back on track. I lost a lot and have returned stronger. I hope the customers enjoy the new menu and the new look!
"Do people remember the riots? Probably not – we're have the Jubilee and the Olympic torch in the meantime – but the experience has taught me a lot.
"For example, get a support network in place. I expected a lot more support from the council, central government and my suppliers. Make sure you read all your insurance document details and get a solicitor to look over them too.
"The best support came from my family and friends. Building your networks and opening yourself up to social media is also a great way of communicating with your customers.
"I had my livelihood taken away. I had everything burnt. I'm looking forward to moving on now."
Follow Meena Toor on Twitter @Journomeena
All images copyright: Meena Toor
May 29, 2013