Fast food done the healthy way
Did you know it was national noodle month? No neither did I, but according to wagamama it is, and if they want me to trial their delights who am I to argue with them?
I have to admit I'm a bit of an aficionado of this particular food chain. Over the years I have sampled various branches around London and found them all to be consistently good.
I love the fact that you always know what you're going to get at wagamama. I tend to be a bit boring and generally go for the same dishes but they do change their menus and add a few new dishes fairly regularly so you can be a bit more adventurous.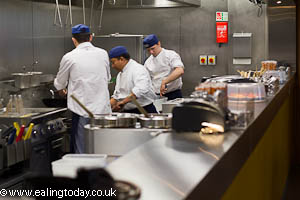 In case you haven't ever been before be prepared for a different service. Your whole menu choice can arrive at the same time (to be fair they always warn you about this though) so, if you did want to take your time over this 'fast' food you might be better ordering the starter, eating it and only then ordering the main course.
Most people seem to be quite happy with the usual method of ordering and tend to choose wagamama because it really is quick. When we went into the new Ealing Broadway branch it had only just opened its doors at midday but was nearly full within half-an-hour - this was mid-week too. A real vote of confidence for the brand I would suggest.
I had the always delicious ebi katsu (deep fried prawns with a spicy sauce)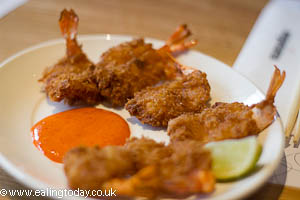 and the teriyaki salmon soba. This was very tasty and satisfying meal of gorgeous pink salmon on a bed of teppan fried soba noodles with curry oil, mangetout, red chillies, red and spring onions, beansprouts and bok choi. with teriyaki sauce, coriander and sesame seeds.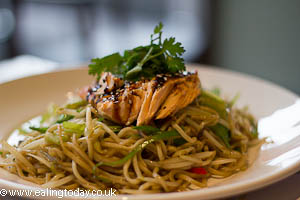 My husband opted for the negima yakatori - chicken and spring onions in a yakitori sauce.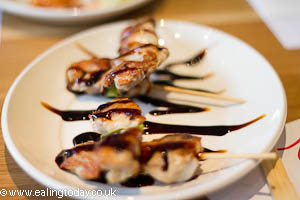 For main (which arrived before starter) he had the chicken katsu curry ( chicken breast deep-fried in panko breadcrumbs or grilled, served with a curry sauce and sticky white rice. garnished with dressed mixed leaves and red pickles).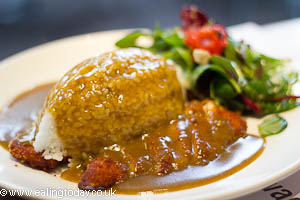 We shared a bowl of edamame beans and decided we just about had room to sample the puddings. For me it had to be the white chocolate ginger cheesecake. I don't often have this when at wagamama as am usually well sated after the main event but oh, how I love this creamy delight.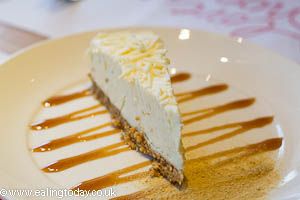 My husband had the sweet ginger and apple gyoza - and whilst it was nice enough he felt the pastry was a little too brittle and would have benefitted from a lighter touch. That slight moan aside he still managed to clear his plate.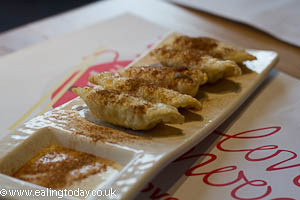 We thoroughly enjoyed our meal - which - with no drinks (tap water is fine) came to around £45 excluding tip.
It's not necessarily the cheapest option for eating out but the restaurant was packed and many customers had young children who really seem to relish the wagamama experience.
The only downside of the Ealing Broadway branch is toilets are on the third floor (there is a disabled/mother baby one downstairs)
Overall I would give wagamama 9/10. I always come away contentedly full - and feeling rather virtuous as japanese food (ok forget the cheesecake) is generally a very healthy option.
wagamama offer a take-out service and some branches are now offering fresh sushi - hopefully we can persuade them to put this on Ealing's menu very soon.
To celebrate national noodle month you could win a trip to Japan. Enter the wagamama facebook competition
Do you like wagamama? What's your favourite 'fast food' restaurant? Share your views on the forum.
14th March 2013