Review of new Ealing based musical
Related Links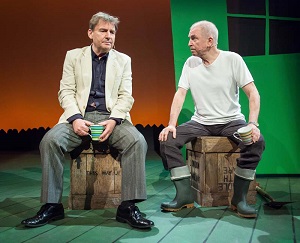 Paul Francis (Ron) and Iain Reid (Michael)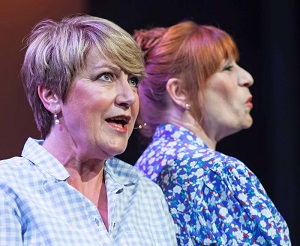 Gillian Jacyna (Sylvia) and Lucy Aley-Parker (Bernie)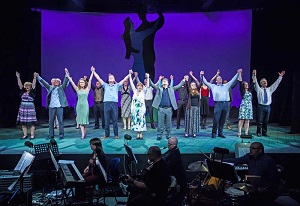 Photos courtesy of Peter Gould
Participate
Sign up for our free newsletter
Comment on this story on the
The path of true love never did run smooth.
When recently widowed Ron is tricked into joining a ballroom dancing club, he meets and falls in love with Bernadette, a strong willed, happy independent woman.
But, as their relationship tentatively develops, cracks start to appear in Ron's family and the new lease of life he finds through Bernie is put in jeopardy.
Richard Harris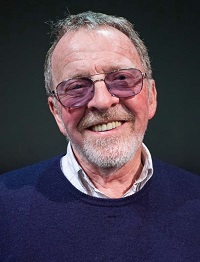 Denis King
West 5 Story is written by Ealing resident Richard Harris along with Denis King - who together won the Evening Standard Comedy of the Year Award for their hit musical Stepping Out.
It's set in Ealing - thus the West 5 story title, which, if you hadn't gathered, is also a bit of a play on the idea of 'West Side Story' - although that's about as far as the similarity goes.
The only violence in this production happens when when the one 'youth' in the show (a hooded wannabe mugger) attempts to snatch Bernie's handbag. Thanks to Ron's old fashioned and rather quirky gallantry the bag never gets taken.
Although based in Ealing some of the accents seemed more Cockney (is there actually such a thing as an Ealing accent though?) but references to Ealing Common and Hillview Crescent caused a few knowing chuckles in a local audience. A few more local landmarks wouldn't have gone amiss to justify the show's title.
The cast - who we must remember are 'amateurs' - gave top class performances.
Paul Francis playing the main role of Ron reminded me in parts of Tommy Steele and like Mr Steele can act, dance, and throw in some fine comedy moments too. It would have been better not to reveal how old Ron was - age is just a number after all. I may be wrong but I don't believe there are many 65-year-olds who regard themselves as ancient or 'past it' these days, but sadly that was the distinct impression we got of Ron.
Bernie (Lucy Aley-Parker) and her friend Sylvia (Gillian Jacyna) had some great scenes and wonderful vocal harmonies and appeared to thoroughly enjoy playing these feisty, fun loving women.
Ian Reid who played Ron's friend Michael was a great comedic foil to Ron's more serious nature and brought a real light entertainment style presence to the stage.
The rest of Ron's family played by Declan McAndrew (John) Julian Casey (George) and Victoria Sandford (Pat) all gave top notch performances with a special nod to daughter-in law from hell 'Bette' - NOT Betty - an unpleasant character well played by Lauren Elizabeth Mills who managed to extract some small degree of sympathy from us by the end.
The numerous musical numbers are performed well with excellent, strong voices from the whole cast and great orchestration.
A word too for choreographer Zyg Staniaszek and Director Mark Fitzgerald who ensured scene changes on the minimalist set all glided along smoothly - as did the dancing.
The show is old style - 'they don't make them like that anymore' type musical with plenty of chirpy tunes and will appeal to many of Ealing's long standing residents.
You can catch it at The Questors until 17th May.

Click here to see video interview with Richard Harris and Denis King
Annemarie Flanagan
May 14th 2014