And a few surprises in store in this West Ealing pub
With the huge array of exotic fruit and vegetable shops on the Uxbridge Road, the regular farmers market as well as the home grown delights of the local abundance project, West Ealing has a growing reputation as a foodies haven.
But where do you go for a good meal out?
This week I didn't hesitate when invited by local pub The Star and Anchor to sample their Autumn menu.
First surprise for me was the variety of choices on the menu. Soup, salad, hummus, onion and feta tart, and pigeon breast were amongst the seven starters.
I spotted the halloumi and opted immediately for that. Halloumi is one of my all time favourites, but, if you get the wrong type or it's badly cooked it can be a major disappointment.

Fortunately this was just right.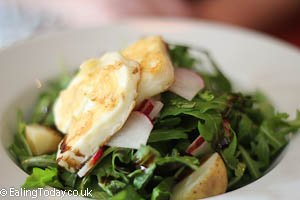 The dish - Grilled Halloumi Cheese with dressed rocket, salad potatoes and shaved radishes - was flavoursome and light. The cheese was mild, not too salty and exactly the right texture - soft and slightly chewy (too often this cheese ends up resembling rubber). The salad and dressing fragrantly complemented the halloumi and, as a starter, this dish certainly hit the right note.
My partner went for the salmon - and this was my second surprise. I hadn't initially noticed on the menu but on second view we saw it described as Salmon, 'Smoked At The Star and Anchor'.
We immediately enquired about this - was it really smoked here? Yes, came the answer from friendly manager, Ash Marsh, there is a smokery in the pub and the salmon is Star and Anchor smoked.
It's a fairly unassuming bit of equipment (below) but it certainly did the job.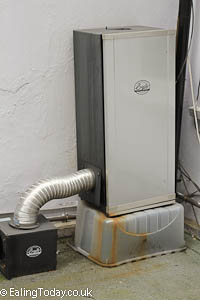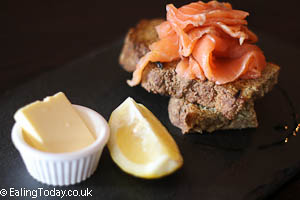 The salmon was delicious (I had more than my fair share) very mild in flavour, smokey but not overly so. With the homemade soda bread, butter and lemon this really was a treat. Who needs Orkney or Scottish when we can have West Ealing's very own smoked salmon? It could be the next big thing I think.
For the main I was tempted by the Seared Tuna Steak but seeing as it was the Autumn menu plumped instead for the one that sounded most seasonal: Mushroom, Chestnut and Spinach Wellington served with Autumn Vegetables.
This was a nice hearty baked dish and more substantial than it appeared. The pastry was light and flaky and filled with a delicious concoction of mushrooms and chestnuts in a rich dark gravy. Whilst the presentation looked wonderful I do think a normal plate would have been better to eat from as the sound of cutlery on slate is rather grating.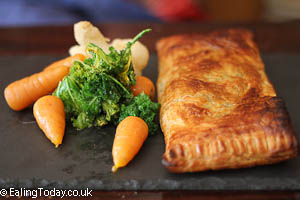 My partner had the fish and chips, and was more than satisfied. Cider and Herb Battered Haddock (with hand cut chips peas and tartar sauce). He described the fish as very fresh and the batter crisp and tasty. The chips were quite filling but he still managed to clear his plate.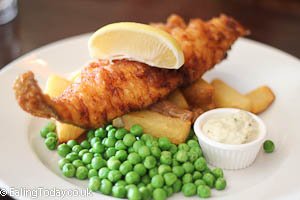 Other meals on the mains menu include Bavette Steak, Pan Fried Duck Breast, Grilled Pork Loin, Piri-Piri Poussin and Crab and Crayfish Linguine.
We had just enough room left to share a dessert and picked the Chocolate Walnut and Vanilla Semifreddo with Expresso Cream.
This was a gorgeous, sophisticated ice cream style dessert. I just wished I hadn't been quite so full and could have managed one all to myself!
There is a very good wine list at The Star and Anchor - I had a glass of crisp Viognier which complemented my meal, but there is plenty of choice of reds too.
Priced very reasonably - two courses for £12.95 or three at £14.95 The Star and Anchor 's evening menu represents a very good deal for a meal out - get in quick though as it's due to finish on October 17th.
Annemarie Flanagan
editor@ealingtoday.co.uk
Have you been anywhere you would recommend? Discuss on the forum.
October 9th 2013