Ealing Today's editor samples the new sushi and teppanyaki restaurant
Related Links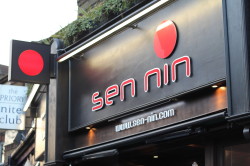 .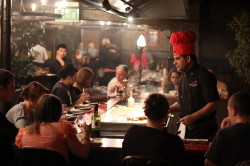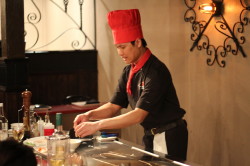 Sen Nin - Ealing
18-19 The Mall
Ealing
W5 2PJ
phone: 0208 840 2041
email : ealing@sen-nin.com
opening hours
Sun - Thu 1200 - 2300
Fri - Sat 1200 - 2400
Participate
Sign up for our free newsletter
Comment on this story on the
Cards on the table - when I first read about Sen Nin I was rather cynical.
This new restaurant on the Mall in Ealing Broadway (previously La Tasca) looked like a novelty/gimmicky place. Brothers Rakesh and Naresh Kapoor have decided to expand their concept from North London to Ealing - but is Ealing ready for this?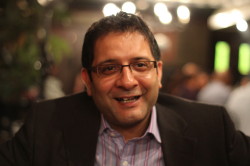 Naresh Kapoor
I was invited to give it a try this week and was rather worried. Fun food places are all very well - but was the food going to be any good?
First impressions were positive. The bar at the front of the restaurant offers a range of beers, wines and cocktails - so even if you don't dine you can still enjoy a drink in a bar that feels far more sophisticated than most in the area.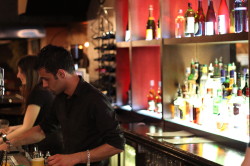 We were shown the extensive menu - which really does have a huge amount to choose from. Sushi, Sashimi and Tempura, plus a variety of Teppanyaki set meals. Meat and fish eaters are extremely well catered for, but vegetarians are looked after too.
Naresh expertly guided us through the menu and explained that the quality of produce is absolutely key. The salmon is sourced from Scotland, the lamb from Wales, he assured us that only the best cuts of meat and fish are used.
My husband is a huge sushi fan - I'm a bit on the fence. However when we tasted this delicious platter I jumped right off that fence and we nearly fought over the last piece of salmon.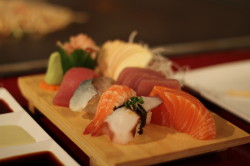 Our verdict - absolutely delicious - as indeed was everything that followed.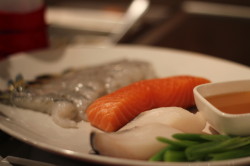 Chicken Gyoza Prawns, salmon and black cod
The Sen Nin 'experience' is not for the faint hearted. Being seated with fellow diners around the large griddle is not exactly intimate.
Chef is centre stage but is far more than just a cook. Knives fly up and down, there's furious chopping, twirling of cooking implements, a variety of tricks, unexpected flashes of fire and some audience participation (yes I admit I did join in - but it's really not compulsory).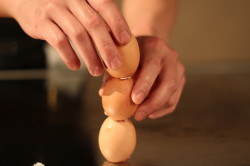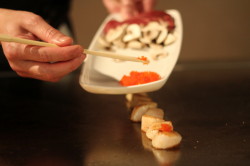 It certainly helps break the ice and lighten the mood - it's great for groups/parties and kids will absolutely love it.
The chefs are extraordinarily hard working and entertaining and we felt we had been transported far from surburban Ealing to a 5 star International Hotel or cruise liner.

The food really is top quality and the customers seated next to me who had travelled from Wembley were just as appreciative as we were.
Sen Nin has already proved a hit in Camden and Islington - Ealing, what are you waiting for?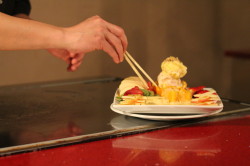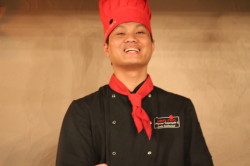 'Leo' (chef supremo!)
Annemarie Flanagan
Enter Ealingtoday.co.uk's exclusive competition and win a fab meal details here
12 April 2011