And you can get 25 per cent off in July
Pizza Express is a bit of an institution. It's been around since 1995, and although it's had plenty of competition it's still going strong.
We paid a visit last week to the new-look restaurant on Bond Street and to sample some of its delights and we weren't disappointed.
Classic dough balls are a big hit with my children and this simple little starter never fails to please.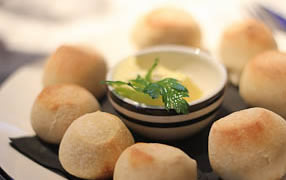 I went for the more colorful Mozzarella and Tomato salad which was fresh and plentiful (I hate it when restaurants skimp on the cheese!)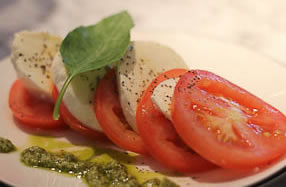 Our Pizza choices were fairly predictible - one day we will all try different ones as there is plenty of choice at Pizza Express - but we stuck to our old faithfuls: American for them ( Pepperoni, mozzarella and tomato) and for moi the always tasty Giardiniera ( Artichokes, mushrooms, red peppers, marinated santos tomatoes, leeks, olives, garlic oil, tomato & pesto base).
I was pleased to see Pizza Express now offer a lighter 'Leggara' pizza selection for under 500 calories - so those watching their calorie intake can still enjoy a meal out with friends -just don't get tempted by the rest of the extensive menu.
Keeping up with these times of dietary concerns the restaurant company also offer a good range of gluten free choices too which is always good to see.
We tried a selection of desserts, the sorbet and summer pudding were both sweet and satisfying but I think the toffee fudge glory proved to be the most popular.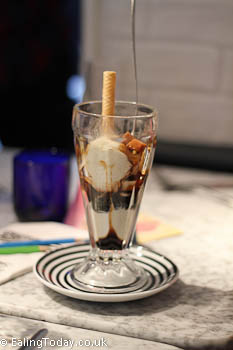 PizzaExpress has always been a good option for the family and has provided a Piccola kids menu for as long as I can remember - mine always particularly enjoyed the Bambinoccino (junior equivalent of cappuchino without the coffee).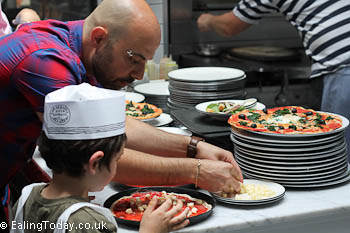 They also offer kids parties where little budding chefs can make their own pizzas. Some bright spark in the company must have thought 'why should kids have all the fun?' - and I was pleased to see that this is now available for grown-ups too.
Situated at 23 Bond Street, PizzaExpress is close to the shops and in an ideal location for when the new cinema finally opens.
The restaurant is on two levels and the top floor is available for private parties.
PizzaExpress has linked up with Ealing Today to celebrate the launch of the new-look restaurant. Readers can download and print this voucher to get 25% off the bill if you visit the restaurant during July.
Buon Appetito!
10th July 2014