Vietnamese food for the Man about Town's tum!
This week I went with a party of Ealing, Acton and Hanwell locals to PHO, the new Vietnamese street food restaurant on New Broadway in the centre of Ealing - not to be confused with the similarly named establishment in Bond Street.
It's a good idea to come early or book as Pho was packed full of happy diners by the time we left at 9pm.
I had the nem nuong (pork & lemongrass meatballs) to start, which were delicious and quite substantial. They come with bright nuoc cham dipping sauce.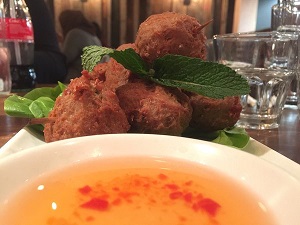 Another interesting starter option is nem hai san - a giant crispy spring roll with tiger prawn, crab and pork. This is very tasty, with the tastes of all the ingredients bursting through. Heading on to the main courses, most of us went for Pho, which should be pronounced fuh, the Vietnamese national dish from which the restaurant takes its name.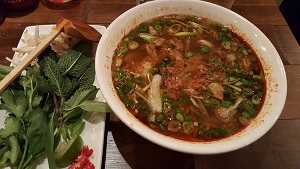 Pho is an aromatic and nutritious rice noodle soup with fresh ingredients served with a side plate of been sprouts, mint, parsley and thai basil leaves to add flavours as you wish, a wedge of lime to squeeze and chilli slices to add if you dare!
The various varieties of fish, beef, chicken and vegetarian stocks take 12 hours to prepare on the premises freshly every day in the traditional way. Just before bringing out the pho, the friendly staff give you the option of a paper bib to wear. It's sensible to take this up: a bib may not be a great fashion look but it is justified when the pho flies!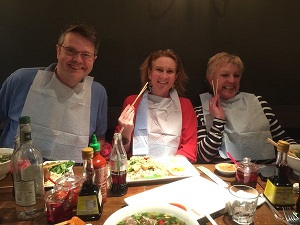 I had the house special, pho bo nam trung, which adds to the beef pho broth tender lean brisket, enoki & button mushrooms and creamy egg yolk. Despite being soup-based, it's a very substantial meal even for someone like me with a hearty appetite.
There are over a dozen other pho varieties to choose from including several vegetarian options with tofu and mushrooms.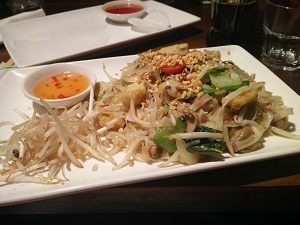 I just had room to finish off with chuoi chien (banana fritter) which makes a great combination with the refreshing coconut ice cream.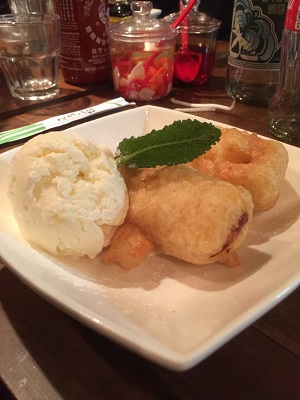 Another option recommended by one of my group was banh la duh (pancake with roasted coconut).
Our editor tried a green tree flower ball. The tied ball delicately unfurls when steeped in hot water as an impressive party trick.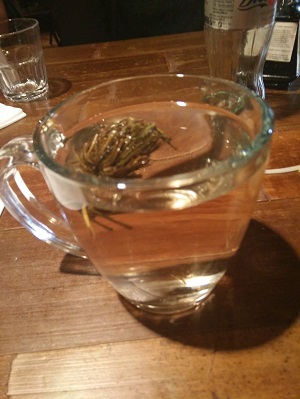 I'd recommend Pho as a great place to go as a group to try something new that manages to be simultaneously a hearty meal and a healthy option.
Jon Ball
14th April 2016