New cafe bar/diner is given the Ealing Today seal of approval
Related Links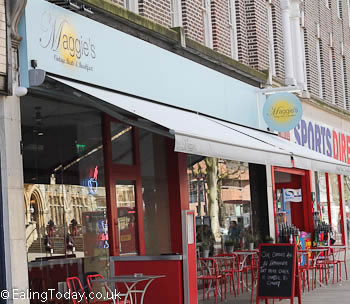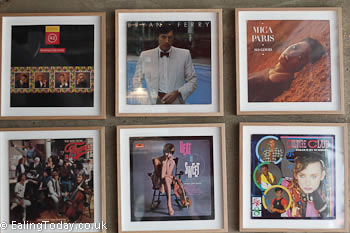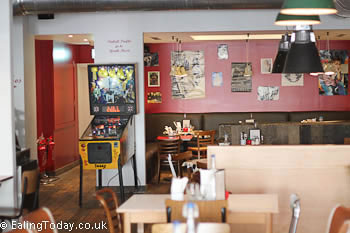 Maggie's Vintage Beats & Breakfast, 39-41 New Broadway, Ealing, London W5 5AH. Phone 0208 840 8308
Participate
Sign up for our free newsletter
Comment on this story on the
A lovely spring like day and a nice walk into Ealing gave us an appertite for lunch - but where should we go?
So many new places are springing up all the time in our 'happening' town centre it's hard to keep track of them all.
Bill's took over from Tuk Cho, and further down (towards the common) is the milkshake/burger theme bar Tinseltown. Both seem inviting enough but it was the eclectic individualism of Maggie's (in the former Pizza Hut site) that drew us in.
Directly opposite from Bill's it's certainly in a good location, but, whilst many have heard of the former chain (which has expanded massively over the last year) Maggie's is currently a bit of an unknown.
I don't think it will be for long though - what a great find Maggie's is.
Loathe as I am to let the cat out of the bag and share this gem (in case it gets too popular and I can't get a table) I figured it's actually somewhere worth shouting about in Ealing so am letting you all in on it and hope it will continue from strength to strength.
It's official name - Maggie's Vintage Beats and Breakfast tells it like it is. It's a quirky retro cafe/diner/bar.
I hate to say it but when you recognise LP covers (kids, you will have to google 'LP') on the wall as ones you once owned, it makes you also feel somewhat vintage but I will say 'retro' as that sounds a tad better.
Oh well, back in the day music was really good and Maggie's plays some great blasts from the past in a nicely laid back atmosphere.
But what of the food?
Well, it's a fairly straightforward menu and I think that's a good thing - too much choice can sometimes dilute the overall quality I have found.
There's a good selection of breakfast items including eggs and pancakes available all day - seven different burgers as well as classics including steak, sausage and mash, chicken pie and kedgeree of which I shall wax lyrically about in a moment.
There's a great milkshake choice, a lovely dessert selection, and cocktails too (currently they're running a 2 for 1 deal on Fridays 5-8pm).
We settled for (him) 'The Works' (£9.00) which was basically a full breakfast and (me) Maggie's Kedgeree.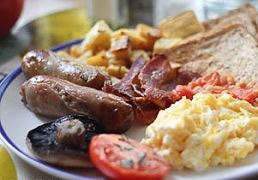 My partner described his breakfast to me item by item: bacon (nice and crisp - as it should be), sausages (fresh and tasty) eggs (scrambled and light) he enjoyed the mushroom and tomato and home made baked beans - which he said were far, far nicer than the H variety, which is quite a compliment from him. The breakfast potatoes were small, roasted and diced and fitted in perfectly with the rest of the plate. All in all he was left feeling very happy, not stuffed - as some greasy breakfasts can leave you, but very pleasantly satiated.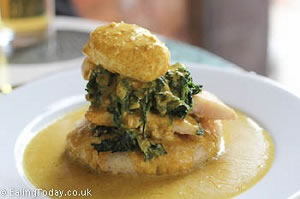 As for me, well I was in seventh heaven with Maggie's Kedgeree (£8.50). Now I'm not a particular afficionado of kedgeree, and have no idea if it is supposed to have a curry sauce or not (does it?) but I don't care. It totally works!
This was a really, really gorgeous meal. The curry sauce covered the mound of rice, spinach and smoked haddock with the most perfect poached egg balanced on top. It's really difficult to get a perfect poached egg but this was perfect. The combination of ingredients worked together so well, this dish was spicy but not too much, creamy and delicious - the chef got the texture and taste exactly right and my mouth is watering now just reliving the experience.
We were very content after our mains but thought we had best try the puddings - purely so I could report back. I hoped they wouldn't let me down - they didn't.
If you are on the lookout for the best brownie in the world go to Maggie's and try this one (£4.50). Brownies are a bit of a deal breaker for me. A bit like risotto, it's easy to get wrong, but when they are right they are SO right. The crisp chocolate on the outside gave way to a soft, gooey, warm interior which oozed as the spoon cut in.
Infused with orange and mixed with the vanilla ice cream this was probably the nicest dessert I have had for a long time - and it was actually his choice! I had ordered the banana, peanut butter, vanilla icecream milkshake (£4) which was very lovely too but the brownie was the best pick. He had no option but to let me try it and I have to admit I took the lion's share.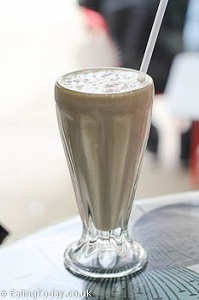 Maggie's is part of the Food and Fuel group who say they are ' dedicated to the provision of true hospitality – fresh, seasonal and delicious food and excellent wines, beers and ales, informed and efficient service and a really genuine welcome. Value is never forgotten: our watchwords are price, quality and service.'
After our lunchtime visit I reckon they are currently living up to their promise.
10/10
Annemarie Flanagan
Have you been - do you agree/disagree? Anywhere else you recommend? Discuss on the forum.
5th March 2014