More choices at Ealing's all day American kitchen
Spring has finally sprung and, as if that's not a good enough reason to be happy, here's another...there's an exciting new menu at Limeyard.
I was very fortunate to be invited (along with a group of other Ealing foodies) to sample it recently and what a pleasant and convivial evening it turned out to be.
The cocktails certainly helped break the ice and got us all in a lively and chatty mood. They do some rather impressive ones at Limeyard with plenty of choice to suit all tastes; Bubbles, West Coast Favourites, Margaritas and Mojitos.
A good cocktail needs to have the right mix of alcohol content versus all the other stuff -ok admittedly I'm not exactly a cocktail expert (or mixologist) but I do know what I like.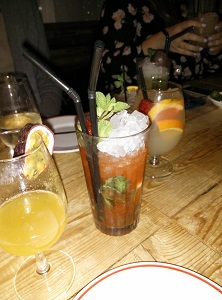 My favourite is definitely the Smokey Joe (Mezcal, Triple Sec, Lime, Grapefruit Bitters & Ginger) - boy does it kick!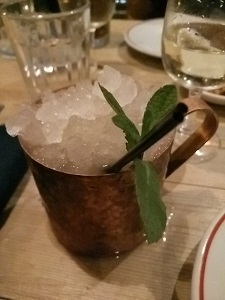 (Smokey Joe)
The food was brought out to share and my goodness what a lot there was. I can't comment on the meatier dishes but suffice to say there were a lot of happy noises coming from everyone who sampled the surf and turf and the cocoa cola glazed rack of ribs.
I tried some of the classic mac & cheese with fresh crab, chilli,spring onions & crispy breadcrumb crumbs. Absolutely delicious and true comfort food.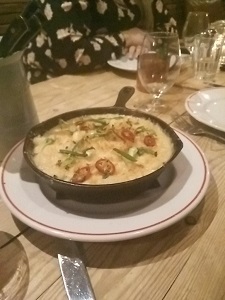 The yard of tacos are ideal for sharing and quite light. They are soft flour shells with beef, chicken and vegetable fillings. You can order a half yard of 6 tacos or the full yard of 12 tacos.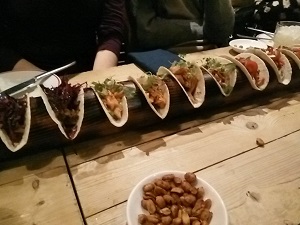 My favourite main dish of the evening had to be the West Coast inspired Banana leaf baked red snapper with a lime & lemongrass marinade & coconut rice. I can't say I have tried much red snapper before but oh my goodness! This was just gorgeous, and the rice and coleslaw side just added to the overall pleasure.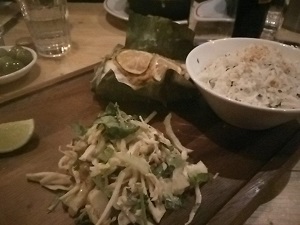 I guess the cocktail's must have been hitting home at this point and the main courses were all very,very special but as for the pudding - well I thought I had died and gone to heaven. What a delectable combination and although I only sampled a spoonful of the baked apple and cinnamon pie (it was very popular) that was more than enough to give it 10/10.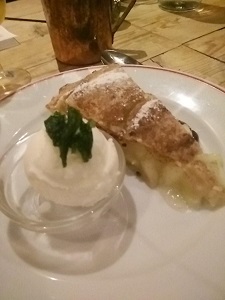 (Baked apple and cinnamon pie)
A word of appreciation to the hard working staff (wonderful service from lovely Geordie, Sam who looked after us so well) and well done to Mr Suarez, Superchef, with food like this I think you are going to be kept rather busy.
Many thanks to Limeyard and my fellow foodies for a really enjoyable evening. I would most certainly recommend this varied and interesting new menu.
And, as Arnie would say....
.... 'I'LL BE BACK'....
Annemarie Flanagan
8th April 2015