The latest restaurant in the town centre gets the thumbs up
Now I'm not quite sure what's going on - (is it the Crossrail effect?) but having been on a rare night out recently I would say Ealing's definitely evolving.
Tuesday evening on Ealing High Street was positively buzzing. That may be something to do with the latest restaurant to open in the ever growing foodie strip (Ealing Green).
Limeyard describes itself as an all day cafe and restaurant and was certainly pulling in the crowds as we arrived.
It's from the same family as the Chiswick based Jackson and Rye, and also Grillshack in Soho - so comes from good stock. Expectations were high.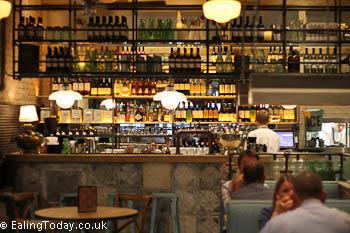 The warehouse style interior was lively as was the general vibe. The staff were eager and we were seated and given our menus promptly.
The menu offers an interesting and varied selection of tasty sounding delights. Breakfast looked particularly appealing but I will have to save that for another time - breakfast ideally!
I started with the Crab Cakes (£5.95) with corriander crust, sweetcorn succotash and hoisin sauce. They were delightful. Really light with a fragrant taste that didn't overpower, Sometimes starters can be too small or too heavy, however, in the words of Goldilocks.. these were just right.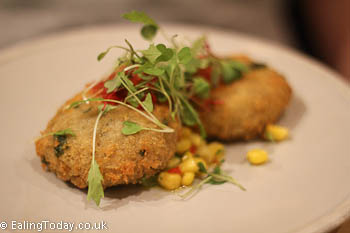 My partner devoured his Fried Spicy Hot Wings (£4.95) with hot peri peri sauce - he was very pleased with his choice describing them as very 'tasty'.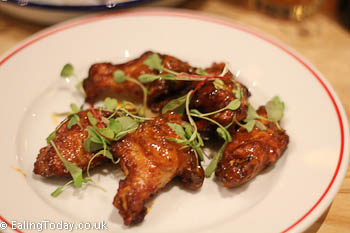 My main course of Grilled Yellow Fin Tuna (£12.95) with a warm heritage tomato salad and a chimichurri sauce was exquisite. Two generous portions of tuna (cooked through exactly as requested) were complimented by a delicious tomato combo and a slightly tangy - but not overly so - sauce. I greedily requested chips on the side and they didn't disappoint.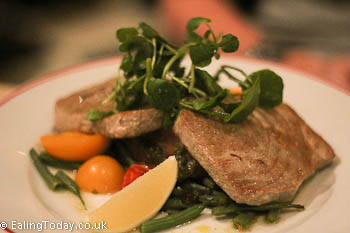 My partner opted for the Steak and Eggs (£11.95) flattened rump steak, fried eggs, shoestring (ie tiny) chips and a house sauce. He said he had never tried this combination before but thought it worked well. An empty plate paid testimony to that.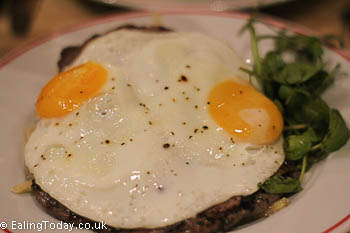 We didn't think we would have room for dessert but reckoned we had better try and give it a go - purely for review purposes - I'm so glad we did.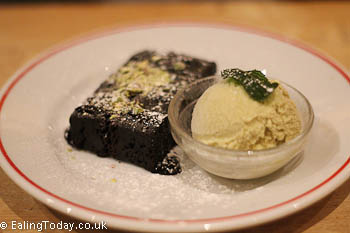 I choose the Warm Chocolate Brownie with Pistachio ice cream (£5.50) and was in chocolate heaven. But the definite winner was the absolutely gorgeous rich vanilla and strawberry cheesecake - which must be a new invention as it doesn't feature on the website menu yet.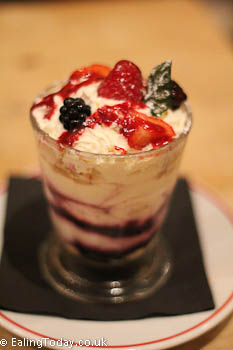 It was like no other cheesecake - ie it didnt come as a solid triangular mass but was presented in a sundae dish, was superlight and incredibly moreish (even after having eaten so much!). Just yum.
The food at Limeyard is definitely very good - the atmosphere is young, lively and fun. A good selection of music blasts out and there is a buzz of chatter. It didn't feel as though we were in Ealing - it was rather upmarket and West End.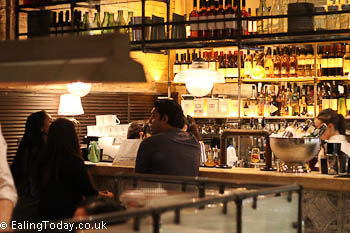 Before we left we spoke to Operations Director Graham Ford - who said they were all excited about the new opening and particularly the great location.
He persuaded us to try one of the speciality cocktails - a Smokey Joe (£5.95) Mezcal,triple sec,lime,graperuit bitters and ginger beer.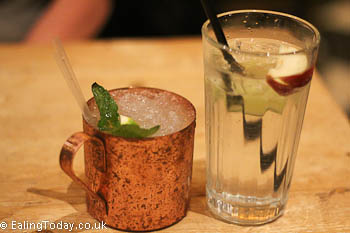 If you are like me and think a cocktail should hit the mark - I'm not one for the dressed up ones with cherries and umbrellas that are all front but have no kick - this is the one. Knockout!
A great way to finish a very pleasant evening.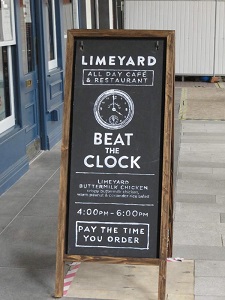 Nb a special offer currently worth taking up is for the Limeyard Buttermilk Chicken. There is a ' Beat the Clock' deal - so between 4pm and 6pm you pay the price of the time you order (eg £4.00...not the price on the menu (£9.25)
Limeyard certainly gets the thumbs up from me. Welcome to Ealing.
Annemarie Flanagan
2nd October 2014