Kerbisher and Malt serving up a fine fish supper
It's (nearly) Friday, so that can mean only one thing. Fish and Chips! When you're out shopping in Ealing where do you go?
There aren't that many chippies in the town centre (please let me know if you know any) so thank heavens for Kerbisher and Malt.
The first and more famous one is in Hammersmith, this branch opened in 2012 and somehow I can't quite believe it's taken me this long to get round to trying it out.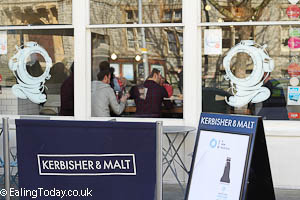 It's not your traditional chip shop to be sure, this is a lot more upmarket (nice decor and trendy craft beers on sale) but am pleased to report the fish and chips are exactly as they should be: fresh and totally delicious.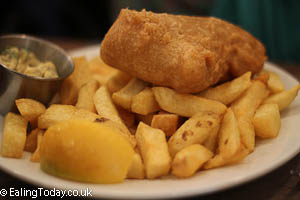 What can you say that's not been said about Fish and Chips? Well I don't have Fish and Chips that often as I find it can be a bit too filling, but fortunately the small portion size on the lunch menu at Kerbisher and Malt is exactly right (£6).
Cooked to order we didn't have to wait too long, but as we did we noticed the tables filling by the second. It's evidently a popular choice for shoppers and local office workers on a lunchtime.
The fish was battered lightly, the (twice fried) chips dry and crisp, the plate was hot and all in all it was very satisfying.
I have to admit (despite making out I have a small appertite!) I also asked for a fish finger butty (£4) to share with my partner because, well, I am just about getting over the virus from hell and really felt in the need of some comfort food.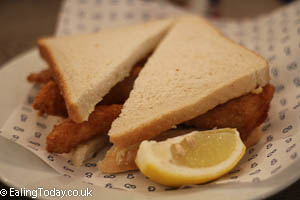 Fish fingers (+ these ones were certainly not frozen ones from a packet) wrapped in bread and butter are so good, really very simple but can make you feel instantly better. Yes, this was a rather splendid fish finger sandwich. I felt very content - simple pleasures hey?!
The price for two plates of fish and chips, a fish finger sandwich and several soft drinks came to £21.20 which I thought was good value for such a pleasant lunch.
Kerbisher and Malt do takeaways and deliveries and the restaurant is open:
MONDAY 12.00-21.30
TUESDAY - THURSDAY 12.00-22.00
FRIDAY & SATURDAY 12.00-22.30
SUNDAY 12.00-21.30
So, although Ealing town centre currently lacks any traditional chippies at least we are fortunate enough to have Kerbisher and Malt, try it out for yourself!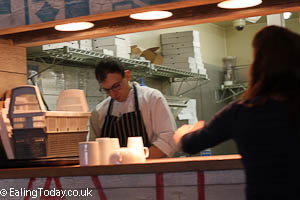 Annemarie Flanagan
9th March 2016