Street food comes to Ealing
Related Links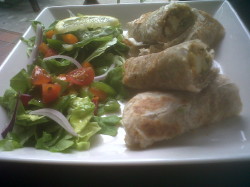 Achari Paneer Paratha Wrap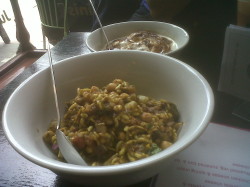 Bhel Puru and Dahi Bara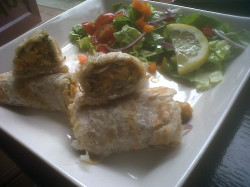 Chana Masala Paratha Wrap
Green Mango Cafe
Ealing Green 24 The Green EALING W5 5DA
wwwgreenmangocafe.co.uk
email: greenmango@hotmail.co.uk
Participate
Sign up for our free newsletter
Comment on this story on the
Can you have too many coffee shops and cafés ?
Many of our high streets are full of the same familiar names which is why I was pleased to see a new independent open on Ealing Green.
In one of the nicer parts of Ealing, Green Mango café is competing for business with quite a few other more established eating establishments - a brave move in this climate - but one that will hopefully succeed because it's just that bit different.
It sells all the usual fare, coffees, sandwiches, paninis and wraps, but, veering away from the traditional, also has a unique sideline of Pakistani street food.
Street food is ready-to-eat food or drink sold in a street or other public place, such as a market or fair, often from a portable stall, most types of street food are eaten by hand.
Take-aways are popular but we sat down in the cafe and tried a selection of dishes, finding them substantial and rather delicious.
I had the Chana Masala Spicy Paratha Wrap which was chickpeas in onion and green chutney and my friend had the Achari Paneer - an Indian cheese cooked in pickle and chutney.
Both came with a side salad and at 4.95 each were good value for money. Tasty and filling, more than enough for lunch, but, (seeing as were testing) we decided to try a couple more dishes between us.
We had a Dahi Bara (3.95) which is described as Lentil dumplings in youghurt with a sweet tamarind sauce and spices, and, as if that wasn't enough, also tried the Bhel Puri (4.95) which was a combination of chana chaat, peanuts, crispy papry puffed rice and green chutney.
I always enjoy spicy food and found this very satisfying.
We washed our lunch down with a couple of smoothies but could have chosen juice, lassi, milkshake or from a range of Asian teas.
Green Mango offers breakfast, waffles and sweet and savoury crepes as well - there's more than enough choice for everyone.
It's only been open for a couple of months and owner Zakar Hussain showed me around and told me about his plans for the cafe.
Upstairs is more traditional - there are comfy seats and sofas at the back for those who wish to linger a little longer, downstairs is more of a private area which can be hired out for parties or meetings.
Businessman Zackar is not from Ealing but says when the old Sevenoaks sound and vision shop came up for sale he had to take it. He has always had a dream to open a café and Green Mango gave him that opportunity.
The name was chosen because it's opposite Ealing Green, and Mango because it's tropical and just that bit different - like the cafe.
The food reminds me of the type you get at summer festivals, tasty, filling and moreish but you you usually have to wait in huge queues for such offerings.
Save yourself the bother, Walpole Park is the setting for a host of Ealing's Summer festivals and a great opportunity to try some street food yourself.
Annemarie Flanagan
Have you eaten anywhere that you liked (or disliked) recently? Comment on the forum
Send me a review.
16 June 2011