Grab this great summer deal at Ealing Park Tavern while you can
I don't want to start pizza wars by discussing which is the best in Ealing, indeed we are fortunate to be supplied with lots of amazingly good restaurants here - but, I have just had one worth writing home about.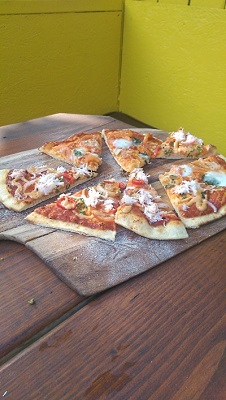 I don't usually tend to get overexcited by pizza, it's one of those quick easy meals that is simplicity itself. In all honesty I didn't expect pub pizza to be that great either. How wrong was I?
And what's even better than good pizza? Howabout unlimited pizza and bottomless Prosecco? Oh my! The perfect combination. If Prosecco is not your thing (but I can't understand why this would be so) you can always have Pimm's.
That's the deal currently running at the Ealing Park Taven (EPT) and I was fortunate to be invited to try it out. Grab it while you can.
The pub garden was packed - it being a bank holiday and such good weather, and the mood very relaxed.
We were looked after really well by the new, very friendly and helpful team at EPT,( pictured from l-r) bar manager Adam McCullock, manager, Yani Tu Pou and General Manager, Valter Garcia.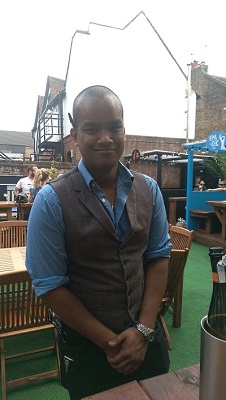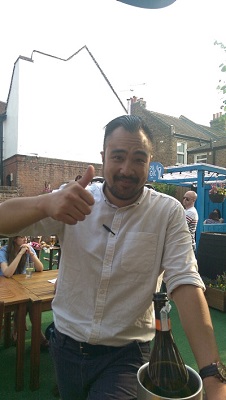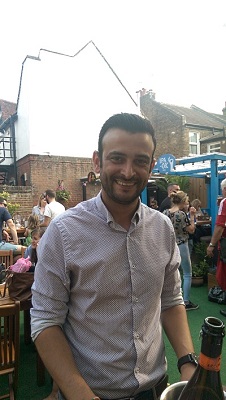 We sampled several different pizzas - greedy I know! But because they are so light and crisp they really aren't too filling and were all totally delicious.
The traditional tomato, mozzarella, parmesan and basil was the simplest and is a good indicator of how the others were going to shape up. Pleased to say this most basic of pizzas was just gorgeous.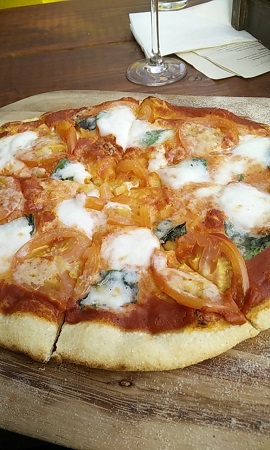 My partner tried the Chilli beef, red onions, smoked mozzarella and green chilli, and said it was one of the best combinations he had ever had.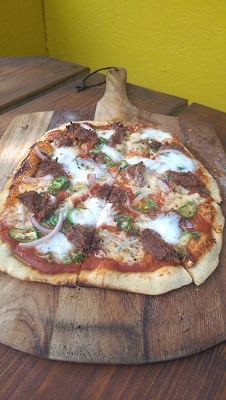 I have to say I would have never thought to try a Crab pizza before, but the prospect intrigued me and I'm so glad I did. The dough base was cooked to perfection and the topping, crab, tomatoes, spring onions and chilli was delicate, light, slightly creamy but with a bite. I couldn't stop raving about it. You really must try it!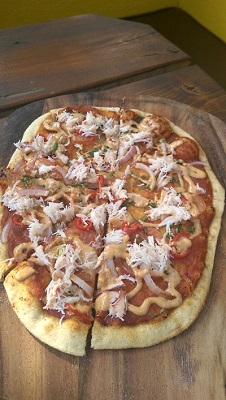 The pizzas cooked on the very hot wood fired stove by talented Head Chef, Nick Ward, are really very good indeed, and you can have as many as you want! Add the smooth, bubbly and bottomless Prosecco to the mix and you have one rather splendid Saturday lunch.
Enjoy your choice of (unlimited) pizza, alongside a BOTTOMLESS supply of Pimm's or Prosecco on Saturday's (for an hour and half) bookings between 12-5pm for just £20 - now that is a good deal.
I have no hesitation in recommending - and, in case you're wondering, I didn't write this rather enthusiastic review straight after drinking a hefty amount of Prosecco!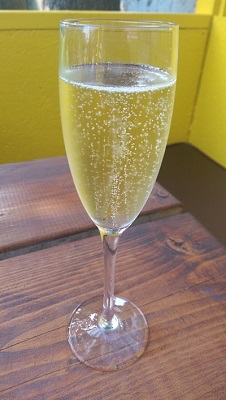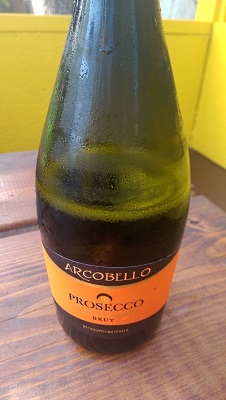 Annemarie Flanagan
30th August 2016