Enjoy a special meal deal at The Ealing Park Tavern
Let's face it, January is just grim isn't it? This one seems far worse than previous years.
Dark mornings, dark in the afternoon, and cold, oh so cold. I get to this point each year and think we should either be allowed to hibernate, or alternatively we could wipe out January from the calendar (and Feb for that matter) and skip from Christmas to March.
But sadly, neither are likely to happen, and struggle on we must. So, what are your survival tips for this time of year? What cheers you up in the bleak mid-winter?
I like good food and drink, comfy chairs next to crackling log fires and a bit of convivial banter. Fortunately, such pleasures can be found at one of my locals (along with lots of friendly stuffed animals...)
We popped in to The Ealing Park Tavern and stumbled across a January Blues special deal and were very glad to have done so as it cheered us up no end.
For £15 each you can get any two courses highlighted in blue on the menu (or £19 for three). There was a good choice and we thoroughly enjoyed our leisurely afternoon soirée
I had a starter of Smoked river Test trout, fennel tops, pear, hazelnuts. The fish was very fresh, lightly smoked and flaked and combined deliciously with the fennel/pear/ hazelnut combo.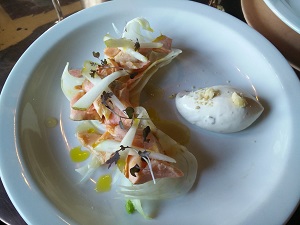 My partner went for the more wintery Chestnut and mushroom soup, smoked mascarpone. I didn't get much of a tasting of this as he had finished it pretty pronto. He said it was smooth, creamy with a unique and rich - almost meaty taste. He enjoyed it thoroughly.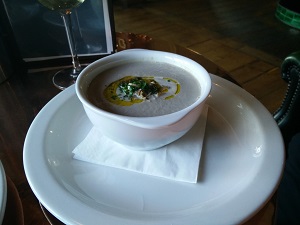 I was very tempted by the fish and chips main course offering but opted instead for the comfort food dish of Wild mushroom tortellini, sautéed trompettes, truffle. This was exactly what I needed on a cold winter day. Packed with carbs, cream and posh mushrooms. Heaven indeed.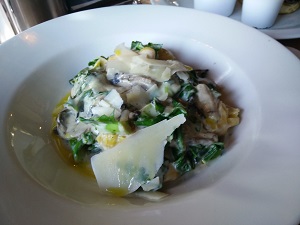 He had the Rib 'n' shin burger, triple cooked chips, harissa mayo. I managed to grab a few chips before he woofed this second course, and I really do believe these chips are the very best I have ever had. They are so light and crispy and oh very, very moreish..mmmmm.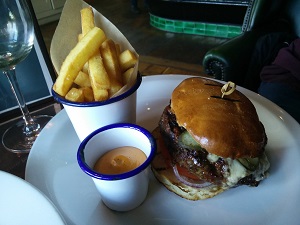 We didn't have room for dessert but enjoyed a delicious bottle of Spanish white wine (Viura, ETM, Castilla-la-Mancha, Spain 2014). At £19 it's the cheapest on offer in the pub; very quoffable and made us feel rather decadent for a school-day lunchtime.
Service was great, the pub very relaxing and we came out thinking January wasn't quite so bad after all.
Grab this great deal whilst you can, an enjoyable lunch (or two) will make this month far more bearable.
Annemarie Flanagan
Let us know of any special meal deals you come across. Contact editor@ealingtoday.co.uk or add to the forum
20th January 2015