Relax and get The Ealing Park Tavern to do it for you
I do enjoy the BBQ season.
Shortlived though it be, eating outdoors is relaxing and convivial and to be savoured during our far too short summertime.
I am particularly happy when someone else does the cooking, so when I heard that The Ealing Park Tavern was now offering a Saturday BBQ I was very eager to accept their invitation to try it out.
As a non-meat eater I find pub menus sometimes a bit limiting and predictable, so was pleasantly surprised to see one of my all time favourites on offer.
What can I say about Halloumi? Well, I generally love it but it can also be a major let down.
Because of its texture and flavour it's actually perfect for barbecues, but sometimes it may look right but totally disappoint. I have had limp halloumi, salty halloumi and tasteless halloumi. Needless to say I was not disappointed by this version.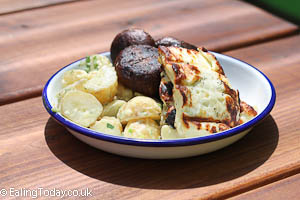 There were two generous portions of this wonderous cheese accompanied by portobello mushrooms and a side dish of spring onion and potato salad.
It all worked really well together - light yet substantial in textures and flavours, a good halloumi makes me very content, it's such a pleasure to eat.
My partner thoroughly enjoyed his Peri-Peri chicken leg with a side dish of buttery corn-on-the cob. He said it wasn't too spicy but had just enough enough kick.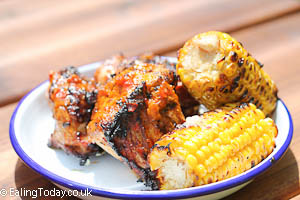 We washed it down with a lovely bottle of Sauvignon Blanc (Marce, Touraine, Loire, France 2013) as chosen by the very friendly and knowledgeable Restaurant Manager, Alexandra Scovarza.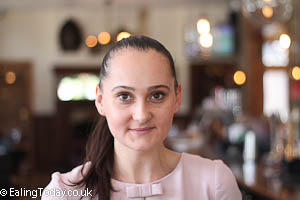 Sitting outside we enjoyed the sun in the refurbished courtyard garden which now has a number of colourful cabanas. The pub garden filled up quite a lot whilst we were there but not everyone seemed to be aware of the BBQ menu.
For a very reasonable £10 you can choose from a small BBQ menu selection, meat, fish or veggie and a side dish. Other offerings can include Smoked mackerel fillet, Jacob's Ladder beef rib and, whilst we were there saw various people had chosen the simple, but ever satisfying hot dog.
The Ealing Park Tavern now boasts it's own ale - Long Arm House Brews, actually brewed on the premises, and we were lucky enough to be given a little sample of the three on offer.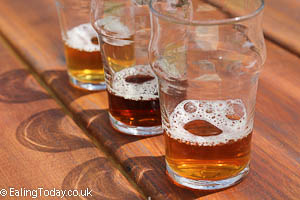 Lucky Penny Pale Ale, was very light, refreshing and had the lowest alcohol content of the three. Birdie Flipper Red Ale had more of a distinct taste which was pleasant enough but it was the IPA I favoured with its warm, rich and almost honey like quality.
The BBQ menu is available on Saturdays* - 'until it is officially not summer any more' - let's hope summer carries on for just a bit longer than usual this year.
Annemarie Flanagan
* weather dependent - advice is to call and check if in doubt.
1st July 2015