The Ealing Park Tavern - back on winning form
After enjoying the launch party at the newly refurbed Ealing Park Tavern I'd heard both rave reviews and a few gripes about the food - so thought it was time to try it myself.
We went on a Friday lunchtime and the restaurant part of the pub was about a third full.
The welcome from the assistant manager, Aga , was friendly and we settled down next to a lovely log fire to survey the a la carte menu.
I wouldn't normally eat a la carte at lunchtime and the pub does do a lighter bar menu - but we were invited to sample a few dishes to get an overall idea.
I started with the Chanterelle soup and cep sandwich (£5).
This was a rich, creamy and deliciously comforting dish very welcome on a cold winters day. Who'd have thought mushrooms could be so flavoursome? The cep sandwich on the side was crisp and really tasty too.
To be honest this would probably have been more than sufficient on its own as lunch - it was extremely satisfying. Despite it being so delicious I could only eat half of it as I knew I would have no room for anything else if I continued to the end.
My partner had the Cashel blue cheese and salsify tart, with a fried quail's egg (£6). Salsify is a sweet root vegetable and is surprisingly pleasant. He thoroughly enjoyed his starter and said it was light yet substantial in flavour.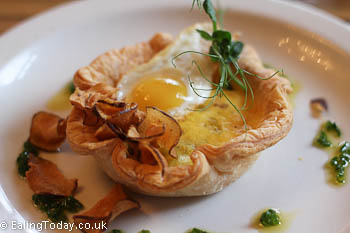 For mains, he was tempted by the steak, but was persuaded to try the special of the day - Glazed White Park beef short rib, cauliflower cheese purée, beetroot and fennel slaw (£17). He was glad he did, describing it as 'melt in the mouth... gorgeous'. I didn't get much more comment out of him as he was tucking in and evidently enjoying the texture and flavour.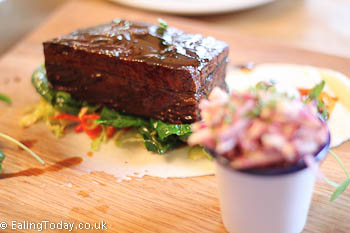 I opted for the Peterhead cod fillet, seashore vegetables, mussels (£15). This was really beautifully done. It's a fantastic chunk of cod in a delicate and lightly fragrant sauce. The seashore vegetables and mussels completed the dish and it was all very reminiscent of being somewhere warm and sunny on the French coast perhaps, far removed from South Ealing.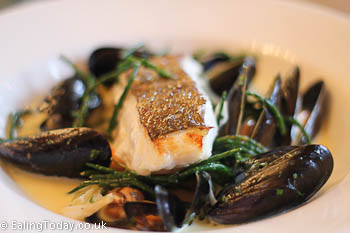 We sampled both red and white house wine: ETM White, Hérault, France 2013, ETM Rouge, Hérault, France 2013 (£17) and thought both tasted delicious and complemented the meals perfectly. But you don't have to drink their wine - a current deal on a Monday evening means you can bring your own - with no corkage charge.
Although tempted by the sound of the puddings : Mississippi mud pie, crème fraîche ice cream. Sticky toffee fondant, cornflake milk sorbet, I had just about enough room for the homemade icecream (£5). Verdict? Oh yes, very,very nice indeed.
Overall it's clear the quality of the food at the Ealing Park Tavern is top class and a great deal of care and attention has been put into the preparation and presentation.
I would like to see more veggie dishes on the starter menu and something other than risotto (always a bit predictable I think as a veggie choice) and gnocchi on the mains, and there really should be a non-meat alternative for the Sunday Roast. The EPT informs me that other vegetarian options can be provided 'on request.'
A few years back The Ealing Park Tavern was lauded as one of London's top 'gastro-pubs'.
Current Head Chef, Matt Burgess, previously worked his magic at The Jugged Hare in the City - another pub in the ETM group.
He is conjuring up real delights here and I don't think it will be long before The Ealing Park Tavern is recognised as a top class dining establishment once again.
Annemarie Flanagan
***Your Chance to Win***
A three course dinner for two people with a sommelier-recommended bottle of wine*
*Terms & Conditions: Prize can only be redeemed Monday to Friday, excludes weekends and bank holidays.
Question: Ealing Park Tavern is part of which popular London gastropub and restaurant group?
To enter, email your answer and full name to vanessa@ealingparktavern.com
Closing date 11th February 2015
4th February 2015