A delicious tasting menu transports Annemarie Flanagan to food heaven
It's been quite a while since I last frequented Ealing's very fine dining institution and there have been some changes at Charlotte's Place. There's now an upstairs overlooking the leafy Common and what a lovely, light, airy additional space this is.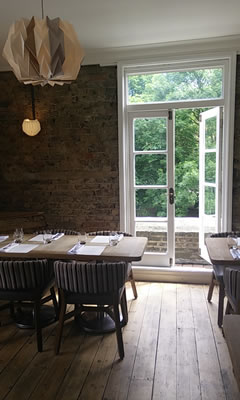 Other differences since the last time I was here include a new chef. Charlotte's Place has never (to my knowledge) had a duff one and the latest culinary wizard, Lee Cadden has worked at The Bingham in Richmond and was head chef at Claude Bosi's Malt House in Fulham.
Lee is magician supreme and here at Charlotte's Place I believe he has conjured up something quite remarkable.
Tasting menus are like a mini food exhibition, enabling the chef to show off his ( or her) skills. I have been a bit reticent to try them in the past as I always fear there just won't be enough on the plate - I like to feel properly 'fed' when I have been out for a meal if you know what I mean. But of course the point with tasters is quality not quantity and also to try a variety of foods that you may never otherwise get the chance to.
If you aren't fond of gushing food reviews, you'd better stop reading now because, having been invited to test out Charlotte's new summer menu, (with paired wines) I am about to gush forth.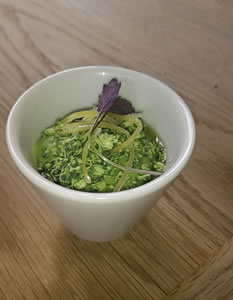 First up was this delectable amuse bouche. Broccoli, seaweed and candied lemon was the rather understated description, and yes it was all there, but this marvellous green concoction was so much more - a genuine surprise. The layers of taste changed with each spoonful and it wasn't long before I issued my first ( of many) exclamations of pleasure.
It certanly woke the taste buds, and had them literally tingling and the next course didn't disappoint either. Isle of Wight Tomatoes Basil Milk Curd and Grilled Bread.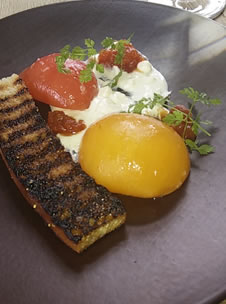 What a feast for the eyes this was and an example of how something simple such as bread and tomatoes can be transformed, fresh light but oh my goodness so delicious.
Salmon never fails to please me so I was delighted to see this dish on the menu, Confit Salmon English Peas Avocado Cucumber and Wild Rice. I was totally enamoured with this beautiful combination and who would have imagined peas could be quite so exciting?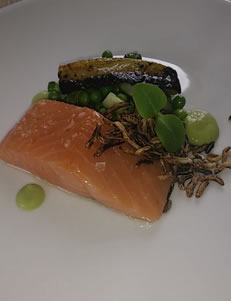 My partner couldn't praise his Clyde Vale lamb more - it was cooked to perfection, tender and juicy he said. A very happy carnivore.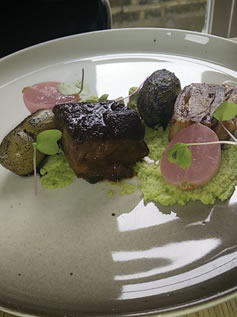 The Soft Herb Polenta, Spring Vegetables and Sauce Viege was my finale savoury course and by this stage (and with two more courses to go) I wanted to make sure I had space for pudding. However it was a really tasty combination, the vegetables crisp and the polenta light my only ( and minor) quibble with this was there was perhaps too much of the creamy sauce for my palate and would possibly request a lighter touch next time.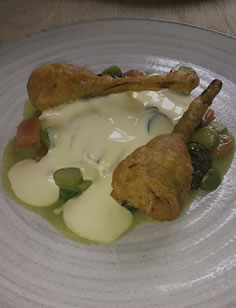 The great thing about tasting menus I now realise is that because the individual dishes are perfectly formed there is still enough room left for dessert and what joy we didn't have one - but two.
The Strawberries and Cream Sipsmith Summer Cup and Warm Madeleines just shouted summer and was gorgeous, but it was the Milk Chocolate Delice Dark Chocolate Sorbet and Cocoa Butter and Lime that totally won me over - my transportation to food heaven was now complete.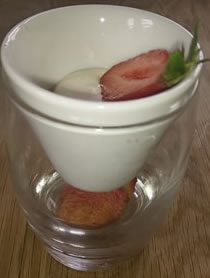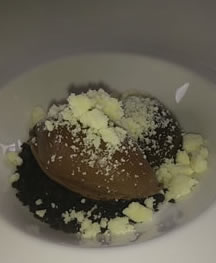 As you may have gathered I thoroughly enjoyed this meal and each stage of it proved to be a revelation and a delight. I've not even mentioned the wines but they were all perfectly paired with the dishes and made the whole experience something very special indeed.
By the end I was in a totally different zone and shook Lee's hand and told him how truly talented he is ( I warned you I was going to gush) .
I think we are incredibly lucky to have this very high calibre chef in Ealing and urge you to try this menu out yourselves, the meal was magical and I hope to go back and relive it all again soon.
See the full menu details here
Annemarie Flanagan
21st May 2017