Easy to see why Charlotte's Place is London's top restaurant
Related Links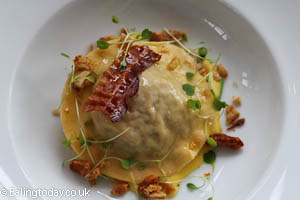 Raviolo of Braised Pig Cheek Caramelised Onion Sweetcorn Puree Pancetta Crisp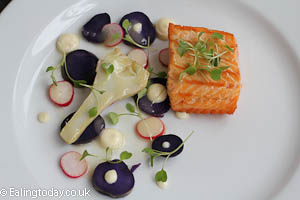 Grilled Sea Trout Heritage Potato Salad Violet Artichokes Radish Verjus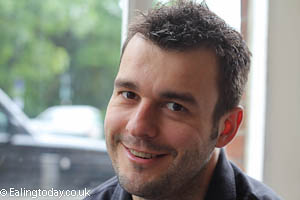 Owner Alex Wrethman thanks everyone for their support in helping Charlotte's Place receive the Good Food London Restaurant of the Year award 2012.
A Meal Too Good to Miss - No Waste and No Washing Up!
Participate
Sign up for our free newsletter
Comment on this story on the

Sometimes less is more - a picture says 1000 words etc - and these photos (courtesy of my other half) tend to say it all really - but as this is a food review please allow me to wax lyrically for a while about one of my favourite Ealing eateries - Charlotte's Place.
Recognised in the Good Food Guide and awarded the title of London regional winner 2012 - it's described as:
'' a picture of cosy, neighbourly generosity.. the kitchen serves up wonderfully composed seasonal food'.
It most certainly does, menus change regularly according to what's fresh and available.
We popped in last month to congratulate owner Alex Wrethman and his talented team and were delighted to sample a whole selection of new dishes.
Service is always top-notch and guidance readily available, so with a little advice on both food and wine from knowledgeable house manager, Amy Hall, we opted for the meat (him) and fish (me) starters and mains.
Charlotte's meals are instantly recognisable both in terms of quality of produce and presentation. Every course is a work of art - almost too good to eat.... almost.
My husband described his ravioli (top right) as a delicious combination of light and creamy pasta with salty and crispy bacon.
My trout was cooked to perfection - very lightly grilled and melt in the mouth. The artichokes, potato salad and radish complemented the fish - a great appertiser for what was to come.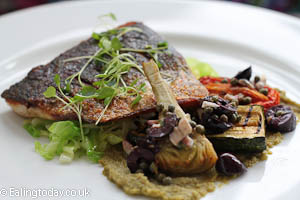 Silver Mullet Olive Tapenade Provencale Vegetables Olive Oil
I have never had silver mullet before but am always keen to try something new so plumped for this as my main. I wasn't disappointed. The skin was crispy on the outside and flesh was succulent within. The olive tapenade provide a delicious salty contrast.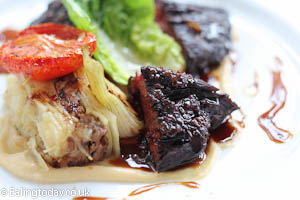 Beef Onglet Oxtail Boulangere Tomato Grelot Onions Onion Puree Sauce Bordelaise
My husband's beef onglet was certainly tasty, the tomato and onion sauce he said, divine, but he found the meat a little chewier than he would have liked. When we mentioned this to Amy she explained that this particular cut of meat is closer to the muscle and whilst some people love it it's a texture that might not suit all preferences.
If I had to choose my favourite course at a restaurant it isn't usually the dessert. I often don't have room left, and was nearly going to say no thanks at Charlotte's - I'm so glad I didn't.
The selection we sampled (see pictures below) were utterly, completely and totally gorgeous.
As you may gather I can't speak highly enough of these marvellous creations - each one was so very light, yet packed with interesting flavours -I would never have thought of putting basil with lemon. The pistachio and olive oil cake was possibly my favourite although it's hard to pick when I'd give them all 10/10.
If these photos don't have you salivating - nothing will.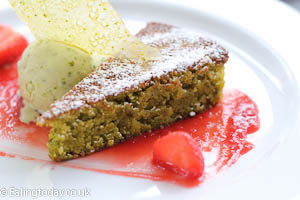 Pistachio+Olive Oil Cake Macerated Strawberries Pistachio Ice Cream Pistachio Glass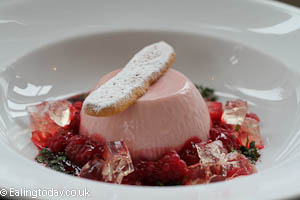 English Raspberry Panna Cotta Breton Biscuit Mint Moscato D'Asti Jelly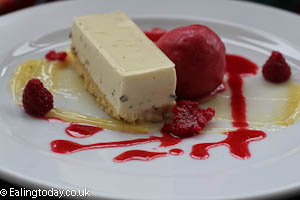 Lemon + Basil Mousse Biscotti Lemon Curd Limocello Raspeberry Sorbet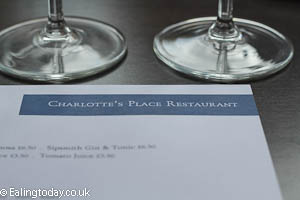 Chef Greg Martin has added new dishes for July and I believe cherries are in...
Oh look....Dark Chocolate & Kirsch Marquise . Cherry Cream . Cherry Chocolate Chip Ice Cream ... you really *need* me to review this don't you?
No? Well it must be time you popped in yourself.
I'd be very interested in hearing your reviews.
Monday to Saturday Lunch 12pm – 2.30pm . Dinner 6pm – late
Sunday All Day Sunday Menu served all day 12pm-late
Lunch 2 Courses £14.95 . 3 Courses £17.95
Dinner 2 Courses £24.95 . 3 Courses £29.95
Annemarie Flanagan
2nd July 2012