Charlotte's Place does it again
Have you ever had one of those meals you just don't want to end?
To those in the know (and there are quite a few aficionados now) I barely need to wax lyrically about the food at Charlotte's Place - but for those who have never been or maybe have forgotten about Ealing's little treasure I shall proceed to do so - ( warning don't read on if you are feeling hungry).
Lunch at Charlotte's Place is an extra special affair now as they have introduced a very special deal and are serving meals from the a la carte menu at at the usual set lunch price.
With six starters and mains to choose from we were not going to be disappointed.
We haven't been to Charlotte's for a while but are still drooling over the fabulous Haddock chowder that chef Greg Martin conjured for us last time. Alas, this wasn't on the menu but hubby was persuaded (by me) to go for the Jerusalem Artichoke Velouté with Truffle Oil, Croutons and Artichoke Crisps.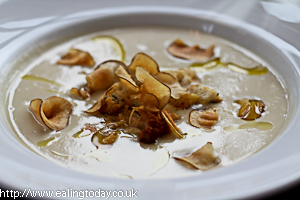 Despite his reservations about artichokes it was every bit as good as the chowder. Creamy, light and oh so moreish. The artichokes were of the most delicate flavour and not at all overpowering (as he feared).
Velouté is apparently one of the four 'mother sauces' designated by the King of Chefs Antonin Careme. It means velvety and this soup was exactly that. I sampled more than I had initially requested and we both just loved it.
My choice was the Scallop and Tiger Prawn Ravioli Nero with Braised Leek Hearts and Sauce Vierge. Yet again Greg's lightness of touch was apparent. The scallop and prawn combo was literally melt in the mouth, and complemented by the dark pasta and the buttery bite of the braised leeks.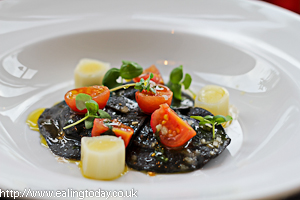 The free Range Chicken Ballotine,Pithivier Savoyarde, Mushroom Duxelle and Tarragon Cream (pictured above) main course for hubby was declared absoultely gorgeous. As a non- meat eater I didn't pilfer his chicken but tried the mushrooms, and, on the basis of just that, am prepared to vouch for his conclusion.
My Steamed Sea Bass, Scallop Mousse, Crushed Potatoes with Samphire, Mussels and Chive Butter Sauce was a fish dish of genius. On the surface this looked very simple (fish and mash) but each bite produced a new taste sensation and revealed the masterpiece this actually was.
The sea bass was beautifully cooked, so delicate yet substantial. The mousse, mussels and samphire were ideal combinations and the crushed potatoes and chive butter just satisfied me completely.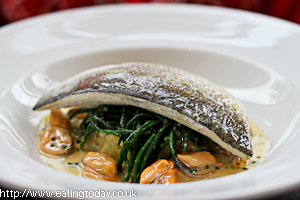 The great thing about Greg's cooking skills is that whilst feeling sated you never feel unpleasantly full - yippee! For once I had room to sample dessert.
Dark Chocolate and Hazelnut Brownie with Kit Kat Ice Cream and Salt Caramel Sauce for me and cheeses for him.
The chocolate pud was my winner. The contrast of the brownie and ice cream with the salt caramel sauce took this yummy dessert to a whole new level.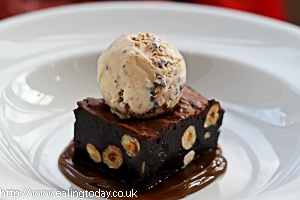 What a splendid way to spend two hours.
We left Charlotte's after enjoying some absolute top class cooking and counted our blessings that we have such a fabulous restaurant on our doorstep (and could walk home!)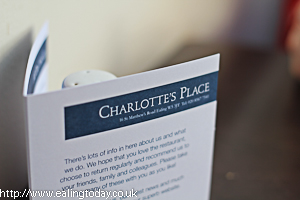 Annemarie Flanagan
Throughout December 2011 and January 2012 – Mon- Sat Lunch, 2 Courses £12.95, 3 Courses £15.95, from the A La Carte menu!
Charlotte's will be closed from 26th December reopening 6pm 5th January

20th December 2011