Twelth Night at The Rose and Crown Pub
Related Links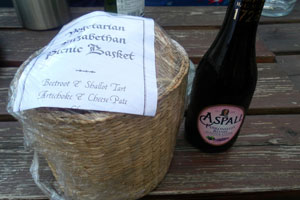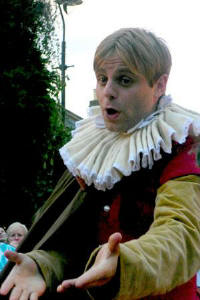 Sir Andrew Aguecheek (Barra Collins). Copyright: Meena Toor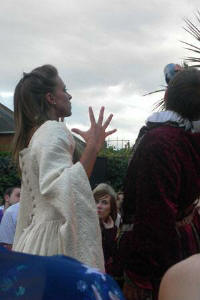 Marie (Venetia Maitland) and Sir Toby Belch (Richard Fish). Copyright: Meena Toor
Participate
Sign up for our free newsletter
Comment on this story on the
There are times when you go to an event and you receive a memorable experience. Shakespeare in the Garden offered an accomplished piece, with comforting touches of rich Elizabethan-inspired picnic food and a warm staff service that created a great evening out.
Ealing's Fuller's Rose and Crown pub was host to a three day run of Permanently Bard's production of Twelfth Night. Director Sean Turner, put together a cast of professionally trained actors to create a humorous and, at times, modern retelling of Shakespeare's tale of mistaken identity and the power of women's love.
After a shipwreck that separates noble twins Viola and Sebastian, Viola is cast ashore to Illyria, where Duke Orsino rules and desires beautiful Lady Olivia. Despite loving Orsino herself, Cesario – viola's masculine disguise – entreats Olivia to reconsider Orsino's proposal with heartfelt words, which only attracts Olivia's heart.
Weaving in the story is the comic trio of Feste, Maria and Sir Toby Belch, who concoct a plan to trick Malvolio, Oliva's manservant, into believing he is Olivia's true love. Meanwhile, Sebastian also survives the shipwreck and comes to Illyria, causing confusion to an already confusing love triangle.
Producer, Tom Tucker, said that he thought this was the perfect play to put on in a beer garden:
"I like Shakespeare and I think in a relaxed environment, it's even better. The intimacy of this little pub garden, where it's all happening around you – people were thrilled. Maybe 400 years ago, you'd be watching some Shakespeare and eating something that tasted like this."
Imaginative use of space and levels provided all audience members a great view from any perspective. The audience turned their heads as actors popped up from behind hedges, on top of rooftops and through the trees – creating freshness to what would have been static comedy and tension.
An enjoyable scene was watching the three plotters Feste, Maria and Sir Toby Belch laugh from the alleyway, as Malvolio climbs on top of audience tables. I still don't know if Sir Andrew Aguecheek's convincing fall from the hedge was a mistake or genuinely clever craftwork. Only actor Barra Collins knows.
Director Sean says, "it's been great. It's the first time I've done a Shakespeare play. [Illyria] is like a festival island in some ways – it's like Ibiza. Twelfth night lends itself to a pub garden with lots of raucous fun and behaviour."
Shakespeare opens the play with, 'if music be the food of love, play on', and music there was. Cameron Harle's Feste serenades the audience with his strumming and deserved the round of applause he received.
Modern touches like singing a George Michael song, and Bryony Meredith's Olivia, who plays 'games' with Cesario brought out spoof conventions of modern relationships to "help audiences that have maybe never seen Shakespeare before", as Sean puts it.
Ester-Grace Button, who played Viola and Cesario, had energy in her performance – enough to see the clashing desires of her character as Cesario working in her face: the need to serve her master, against her love for his heart.
At points during the play, I am distracted by the variety of delicious breads and toasts in my picnic basket and tuck in to the very good artichoke and cheese pate, followed by a buttery beetroot and shallot tart. For Elizabethans, ale was often cleaner than water. Profiting from their misfortune, picnic-ers drink the complimentary Aspall cider.
Fuller's Inns Managing Director, Jonathan Swaine, also came along to support the entertainment:
"I'd love more events like this to happen. Events like this put smiles on people's faces. In his day and age, more events that we can stage to help connect people like this together, as opposed to being in front of our TVs on our sofas, the better. It enriches our lives."
Weather problems from last year's event were rectified with the distribution of plastic rain covers – which for a brief showery moment were in everyone's hands. The brief rainbow that followed delighted some audience members, who were ready to capture the moment with their handheld smartphones. As night fell, the addition of tea lights and fairy lights made the place cosy.
An unnecessary extra was the way the production ended. The choreographed dance and formal ending came in after the play's natural ending of the love triangle's denouement. What was meant to be a dance to illustrate their joy, felt contrived to simply tick the 'dance routine' box. Shakespeare had quickly tied up his loose ends – so should Feste have delivered his end speech.
I anticipate that their next show in October will be popularity. If the proposed plan to tour this production around beer gardens in London goes ahead, I suggest you book and ask for a picnic basket or two.
Meena Toor @journomeena
8th August 2013