BBC presenter based the children's character Cookie on herself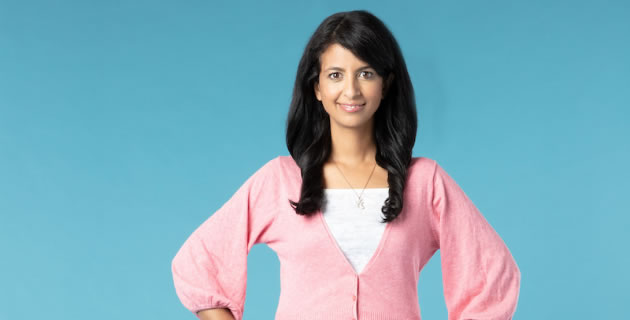 Picture: Ed Miller
BBC television presenter Konnie Huq is the latest in a long list of celebrity names to enter the world of children's literature.
The Ealing-based mother-of-two, who is also sister to MP Rupa Huq, has decided to take time out from her television career to raise her children Covey (7) and Huxley (5).
But never one to sit around without a project, she quickly decided that project would be writing and so, Cookie and The Most Annoying Boy In The World is the result.
The book, aimed at readers aged 7-12 has just been published and she says that although the central character is a girl (Cookie Huque), who, like her, has parents from Bangladesh, the story is not specifically aimed at girls.
"Traditionally it's said that boys read books about boys and girls read about girls but that they don't tend to move beyond that and so I am trying to redress the balance here.
"It's designed to educate and inform, not patronise, there's a lot of self education and learning, a lot of science and, she likes long words. There's also a good wide range of vocabulary but in a funny, anarchic way.
The book also contains comic strips, but has a lot of scientific content, such as venn diagrams, (how a team is picked for PE), but the science is subtle.
"It's about sowing the seed, because sometimes kid's learning is sparked by something simple that grabs their fancy, and if their passion is ignited in formative years you can take it for life.
"Science and knowledge gets a bad PR and the implication is that if you're a kid and you like science then you're square. There have been surveys in which kids say that when they grow up they want to be famous, but they don't really know what for. They're in a world of reality tv, fast fashion, which is fine, but society is turning really competitive whether it's the number of likes on social media, or being more popular, what kids are absorbing."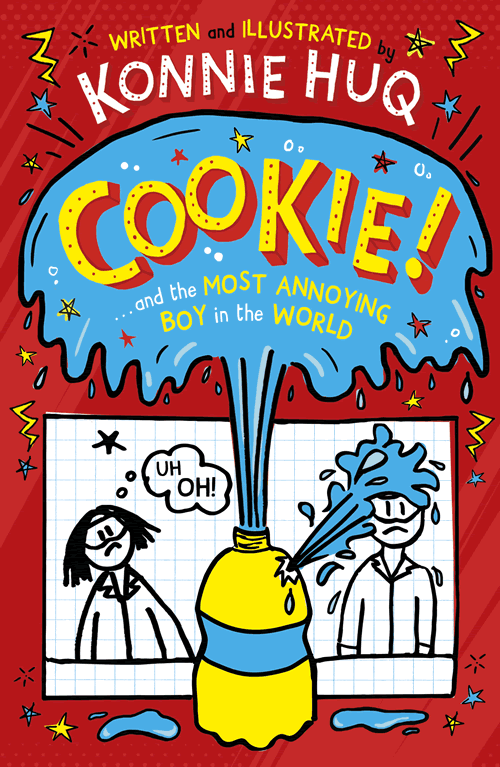 Since her youngest child went into reception, Konnie has the hours between 9-3 to write and is highly disciplined. When she became a new mum she tried to combine her filming career with motherhood and decided it was just too stressful to be away and so she made the decision to pull back from television.
Her parents came to the UK in the 1960s from Bangladesh, and their dream was for their children to to into the maths or science professions, to be a doctor or an engineer. Rupa took science subjects for her A-levels.
Going into the media after studying economics at Cambridge, was the opposite of what her parents had envisioned for her. She became the longest-serving female presenter of Blue Peter, having presented it from 1 December 1997 until 23 January 2008. She also presented the 2010 series of The Xtra Factor on ITV2 and numerous programmes across a wide range of subjects.
But in her new book she returns to the subject of science, and mines her own childhood for inspiration.
"I live in Ealing and in the book Cookie is growing up in Ealing, which is a leafy west London suburb, and it's where I grew up. It's about her friendships, about fitting in, she's an outsider, and when her best friend's dad gets a job in Solihull, she moves away. Cookie is devastated and asks her parents if they can at least get a pet but they don't want her to. Then this boy comes to the school and sits next to her, where her friend used to sit. He's the annoying boy.
"So there are lots of themes, but it's about diversity, inclusivity and social values, amongst others."
Konnie was an avid reader as a child and vividly remembers her first book (without pictures) which was Superfudge by Judy Bloom. The story centres around the Hatcher family and their three children, Peter, Fudge, and baby Tootsie, who move to Princeton in America and have lots of challenges in their new home.
"I devoured it in two days, I thought, 'so this is how a grown up book is written', it didn't talk down to me, and in my writing now I have tried to do it that way, not talking down to the reader."
" It took a while to find the voice, the setting up the world, setting up the characters, and what makes them tick, in the book the pictures are Cookie's thoughts, there's that thing of saying one thing and acting another. The book lets you go into her head."
This is the first of a trilogy with Cookie as the central character. Konnie has already completed the second one, which has a theme of climate change. The third one will be about computer coding and hacking, serious subjects to tackle in a children's book but it's what she calls 'stealth learning', education through entertainment.
She has been married to screenwriter Charlie Brooker (Black Mirror) for almost ten years. She also has her two sisters Rupa and Nutun living nearby, so there are plenty of chances for catch-ups and family get togethers.
Cookie and the Most Annoying Boy in the World by Konnie Huq (Piccadilly Press) is out now.
September 1, 2019