Saturday 27th September at The Forester
The Ealing Foodies Fest is back!

Stalls coming along including Kathmandu- Nepalese, Silva Lining- Caribbean, Buttercream & Daisies- Cakes, Amalfi Caffe- Pasta and Ciabattas, Richardsons- Sausages, La Crepe Des Delices- Sweet and Savoury Crepes and a couple more that we hope to confirm in the next few days!

To add to this there are great activities for children including a visit from the 'I Know Why it's Yum Mum' Rainbow Fairy @ 3pm, fruit kebab making, biscuit decorating, face painting and food themed crafts run by The Creation Station.

Live music will be provided by the fantastic Westbound Piccadilly, between 2-5pm and there will be some YUM W13 tote bags and balloons to give away sponsored by Hunters Estate Agents.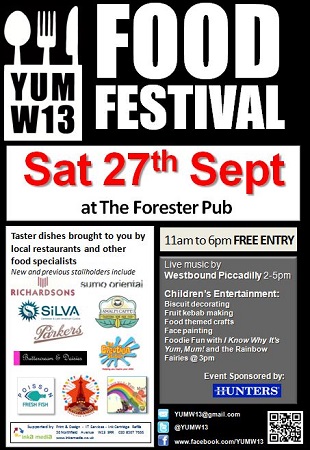 17th September 2014