Lammas Park Sunday 4th May 2-4pm
Family Mini Tennis afternoon on Sunday 4 May at the Will-To-Win Tennis Centre in Lammas Park is an event aimed at Ealing families to encourage them to take up tennis together and forms part of the LTA's National Mini Tennis Month.

The event is from 2-4 pm and open to all ages from little ones aged three to 10 year olds and their parents.

You can try lots of tennis and games to develop your child's and your own, co-ordination, ball awareness and basic tennis skills.
No booking required. Everyone welcome.

Phone 0208 8400888 or www.willtowin.co.uk for more information.

In case of adverse weather please first contact the tennis centre.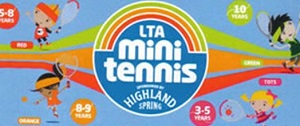 23rd April 2014