Restoration project funded by Heritage Lottery Fund and Ealing Council
Related Links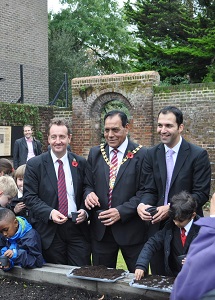 Ealing's Leader, Mayor and Councillor Bassam Mahfouz join a kitchen garden workshop at Walpole Park's official opening
Participate
Sign up for our free newsletter
Comment on this story on the
Walpole Park which has undergone a £5million makeover has been officially opened.
The ceremony took place on Friday, 24 October - Ealing Council's leader, Councillor Julian Bell and the Mayor of Ealing, Councillor Tej Ram Bagha joined pupils from Christ the Saviour Primary School for community gardening at a special Kitchen Garden workshop.
The transformation of Walpole Park began in August 2013 and the park now has a new children's playground and restored fountain as well as Rustic Bridge on the Serpentine Lake; in addition there is the Rickyard – with new refreshment kiosk and visitor toilets – designed by the architects Jestico + Whiles.
The park's Walled Garden has been restored; paths have been widened and re-surfaced throughout with the aim of returning Walpole to the Regency glory days of its creator, Sir John Soane.
Walpole Park's official opening ceremony was also the occasion when the covering over the structure opposite the Rickyard kiosk was finally removed to reveal an art installation called Drop.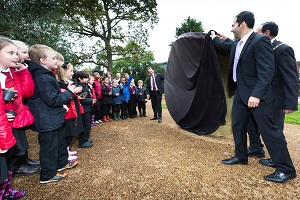 Created by Paul Cocksedge for the London Design Festival to show at the Southbank Centre; Drop appears to be a giant coin that has been dropped from the sky. It has a magnetized surface which people stick pennies onto; transforming it from bronze to copper. It will be displayed outside the Rickyard for approximately two years. The idea is that any pennies collected from Drop will be donated to the Mayor's charities.
Ealing's leader, Councillor Julian Bell said: "I'm so thrilled to be here to finally declare this beautiful park officially re-opened. This project has been a labour of love for all involved, because Walpole Park is such a special place with huge historical significance; not just in Ealing, or London but nationally.
"It perfectly represents Soane's architectural and horticultural vision and I am so grateful to the HLF for awarding us with the funding to restore his vision and make Walpole Park an essential destination for a whole new generation of park lovers."

29th October 2014