Ealing runners walk the tube challenge for charity
Ealing Half Marathon organisers Sandra Courtney and Kelvin Walker will be taking on a challenge of their own.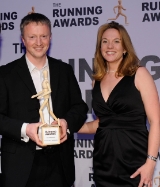 On Friday 10th April 2015, they will be joining a group of around 20 fund-raisers, to spend almost 20 hours on the London Underground. They plan to visit all 270 stations in a single day.
A logistical challenge, a test of endurance and probably reason to question one's sanity; the Walk the Tube challenge is being led by Geoff Marshall, the Guinness World Record holder for navigating all the stations in the fastest time. It will start at 4:45am and aim to finish around 11:00pm.

The point to all this madness is not only to tick off a challenge but also as they normally facilitate races for others to raise funds, it's a while since they've had the chance to do it themselves. They've chosen two great causes to get some cash for, they are Alzheimer's Society who are Ealing Half Marathon's headline charity for 2015 and CRY in memory of Tom Clabburn and Andrew Carter.
Please show your support and donate here if you can
31st March 2015