More than a sprinkling of success from Ealing's volunteers
Related Links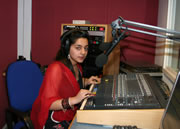 Desi Radio broadcasts 24 hours, seven days a week on 1602 AM in the six boroughs of West London. Sky television viewers can listen to Desi Radio on 0169 and internet users can listen to Desi Radio on the website www.desiradio.org.uk
Participate
Ealing Volunteer Centre, Lido Centre, 63 Mattock Lane, Ealing W13 9LA
Tel 0800 652 3183
Fax 020 8280 2289
People interested in volunteering should visit www.do-it.org.uk or contact their local volunteer centre
Sign up for our free newsletter

Comment on this story on the Ealing forum
One hundred volunteers in Ealing have just clocked up 10,000 hours voluntary service with community groups across Ealing.
At just 15, budding DJ Priya Bilkhu was one of one hundred volunteers to be presented with a Certificate of Volunteering Achievement by the Mayor of Ealing, Councillor Mrs Hazel Ware at Christ Church Hall this week.

Priya hosts her own weekly slot on Desi Radio, broadcasting from the Panjabi Centre in Southall. "My mum was listening to Desi Radio one day and heard about the free training courses they offer in radio presentation. It sounded interesting, so I went along after school every day for two weeks.
"I presented on air occasionally after that, then in April last year I was offered my own show. It goes out every Sunday from 4pm to 6pm, and I really enjoy it. It's quite a challenge doing everything myself, and taking live calls from listeners. I get to choose the songs and also a topic to talk about.
"Volunteering is really rewarding. I use my skills for the benefit of the community and do things that I really enjoy. It's great to know I will be able to get references that I can use when I'm older." This year Priya will be taking her GCSE exams – that's in between volunteering at Desi Radio as well as two other organisations – Priya is an 'arts ambassador' at Rifco Arts and an usher at Westwing Theatre.
Priya's mother Rani said: "Priya has always had a passion for entertainment. She started from birth, doing catalogue modelling. By the age of 4 she was playing Sharmilla in Eastenders. Volunteering has given Priya has given her lots of confidence and boosted her self esteem. At Desi Radio she has developed multitasking skills that will benefit her in the long term."
Lizzie Saunders, Manager of Ealing Volunteer Centre, said: "Volunteers make a real difference to our local community. Annually volunteering is worth over £40 billion in England and Wales. Today 100 volunteers have received awards in recognition of the valuable contribution they have made to local community groups. Each one has given their time freely for at least 100 hours – that's more than 10,000 hours of voluntary service here today. Congratulations on this outstanding achievement!"
February 22, 2008