Find out more about opportunities available locally
From 1-7th June throughout the UK voluntary and community groups will be holding events and activities to thank volunteers for the fantastic contribution they make to the local community. Ealing Volunteer Centre will be marking the week with two activities: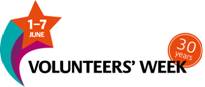 Ealing Volunteer Fair

Anyone interested in volunteering in Ealing can discover lots of exciting ideas at the free Ealing Volunteer Fair on Thursday 5 June (Liz Cantell Room, Ealing Town Hall, 2–4.30pm). More than 40 local community groups will have stands offering a wide range of volunteering opportunities.
Browse round the fair and take your pick! If you enjoy being with children you can visit a local school to help children behind with their reading. If you'd like to help elderly isolated people there are opportunities to make home visits, spending an hour spent chatting over a cup of tea. Help at a radio station, in a busy hospital café, or a community shop. Become a volunteer business advisor, or charity fundraiser! There are hundreds of roles to choose from!
Ealing Central Library

Ealing Central Library is hosting an 'A-Z of volunteering' exhibition organised by Ealing Volunteer Centre (2-6 June).
Further details
Wendy Sender on 020 8280 2242 or email wendy@ealingcvs.org.uk or Samantha Stotland on 020 8280 2241 samantha@ealingcvs.org.uk
Website: www.ealingcvs.org.uk

Ealing Volunteer Centre, Lido Centre, 63 Mattock Lane, Ealing W13 9LA
Freephone number for volunteers: 0800 652 3183

28th May 2014