Catch it at The Questors 7th -10th August
Related Links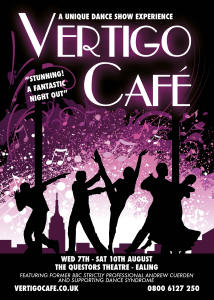 7:30pm The Questors Theatre, Ealing W5 5BQ
Wednesday 7th to Saturday 10th August 2013
Tickets from £20*
Box office: 0800 6127 250
*A 25% discount is available for groups of twelve or more.
Participate
Sign up for our free newsletter
Comment on this story on the
Vertigo Café is a unique and immersive dance show combining eclectic styles of dance with music, song and storytelling. First produced in 2011 it was performed to sell-out audiences receiving wide acclaim. This August an updated version comes to The Questors Theatre, Ealing.
The show revolves around three female singers who arrive in New York City to work at the famous Vertigo Café, a night club run by a vivacious diva. Join the girls in the club as they experience a world full of drama, romance, comedy, and passion as the stories of each enigmatic dance couple unfold.
The show is directed by, and features, Amanda Harker whose extensive experience of dance and choreography has helped her source an array of multitalented cast members. They include Ballroom Latin American champion and former Strictly Come Dancing's Andrew Cuerden along withcompetition and award-winning dancers, top Street Dance performers and professional singers.
This is a limited run so don't miss a rare opportunity to see this fabulous fusion of world class dance and music, up close. All profits will support Dance Syndrome, a disability led charity whose aim is to improve disabled peoples' lives both through learning to dance and by teaching dance themselves.
Vibrant, energetic, entertaining and uplifting, Vertigo Café is a show which will engage all ages. A truly magical spectacle.
24th July 2013