Meena Toor finds out more about this new Euro band
Ealing Broadway Shopping Centre became a top music venue for a just a few hours on Monday.
Five lads called 'The United' took over the centre and played to an appreciative audience.
The band members who are aged 19-22 come from all over Europe and met in October 2011. They've been on the road since, recording and travelling around Norway, Germany, Sweden, Holland, United States and Thailand.
Gabriel, 21 from Sweden entered Swedish Idol in 2009 and ended up in the top 30. Mike, 22, a business graduate from Manchester in the UK, plays the guitar and learnt music from his two grandmothers, who are both music teachers.
Manuel, 22 from Germany came third in German Idol and Step, 21 from Italy began posting on YouTube on 2007, successfully becoming the first singer on Italian YouTube. Youngest is Teus, 19, from Sweden he started singing at 12 years old and auditioned for Popstars in 2010 with Lady Gaga's 'Paparazzi'.

Lady Gaga's presence returned as the band revealed they worked with her producers and recorded at her studio. "It was such an honour", says Step, "We got to use the same studio where Lady Gaga recorded 'Born this way'".
As expected, the guys are enjoying the attention of their fans. Teus, had a surprise in his hometown. "The best has been in Holland, so far as there were a lot of girls. I didn't expect that many people as my mother put only a small article in the local newspaper, but when we arrived, there was a queue outside of our building and a screaming-party of about 150 people."
Earlier in the day, the band has been doing interviews at Capital FM, West FM radio and Chart Hits TV and it seems that they have their sights set high.
"We want world domination", Manual jokes, "but a number 1 hit and getting people to like our music is our real goal". Mike adds that "we're the boy band version of David Guetta or Chris Brown. We want to do something different and something fresh. Everyone is pop and rock – we want to go club".

From 4pm, the stage was greeted by Irish musician, Patrick Plunkett, who sung soulful acoustic songs in the style of Bryan Adams.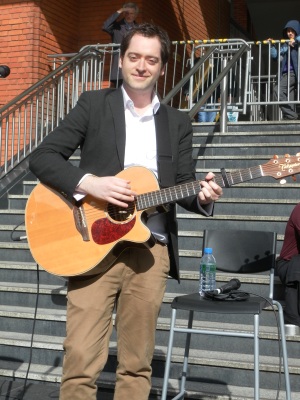 After an hour, the boys took to the stage to a mixed crowd of teenagers young women, children and adults. Warming up the crowd they played Bruno Mars 'Marry you', followed by 'Don't stop Believing' by Journey, made famous in Glee.
The fifteen minute set was finished with their new single available on iTunes, 'Stay Young', and a poster and merchandise signing.

Along with the shoppers and onlookers, the crowds in Ealing Broadway Shopping Center were made up of lucky winners across Teen Now, Top United selected fans and Ealing Broadway Shopping Center's online competitions. Teen Now winners Lottie Cox and Alex Keyhoe, followed the members on YouTube first. "Their music is different from everything else – it's more 'clubby'. They're not the typical boy band" says Alex. Their song's reach is even going international by word of mouth. "I'm sending the music to my friends abroad so that they can play it in their clubs", says fan Jessica Baton.

Manager, Chris Collins, confirms the last 16 months have been building up the band; "We've been in studios, travelling around and meeting different contacts. We want to show the guys to target groups, do radio interviews, target interviews, mini acoustic concerts and build up a fan base. I think, so far, it's been pretty successful."

The band is now planning to move in together in London or Oslo. With such a mix of backgrounds, when asked if there's a song featuring a different language in the works, Gabriel replied with "we're talking about it and it could be cool, but we're not saying anything more yet".
The United are off to Manchester next, followed by tour dates in Cardiff, Birmingham and Glasgow. Local residents can have further events to look forward to this summer. Stuart Hill, Ealing Broadway Shopping centre manager, was pleased to report that "we have had positive feedback and plan to host more events and activities for our shoppers and Ealing Residents to enjoy throughout the year.

Meena Toor @journomeena
17th April 2013