and I hear there may even be a chicken karaoke at this one.....
Dydd Gwyl Dewi hapus!
It's Ealing tweet-up time tonight too.
So if you need an excuse to raise a glass - you now have two.
The #ealingtu is happening at the Rose and Crown in W5 tonight from 6.30pm and here's some good news - the first drink is sponsored by Ealing-based DunnHumby (the world leaders in customer data and personalisation.... so I'm told http://dunnhumby.com/)
In the past there has been great music, food - courtesy of Tom and convivial banter (local politicians of different political persuasions have even been known to share a joke or two).
Tonight the fab local band Brace Yourself will be rocking the joint - and they have kindly (?) agreed to be the music backing for local rock star wannabees for a karaoke session.
There are rumours that 'Forget You' by Cee Lo Green will be performed as per the new Muppet Movie (I won't spoil it if you haven't seen it) so it's a tweet-up not to be missed.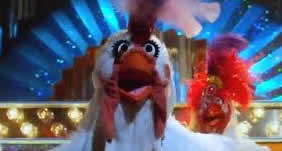 If you want to sponsor a tweet-up contact organiser Hayden Sutherland can you help or think of any company that can?
1st March 2012