Local children entertain staff at new restaurant
Staff at Ealing's new Caribbean restaurant, Turtle Bay, got an uplifting surprise yesterday as local children from the Ealing Kidz Alive Gospel Choir paid the new team a visit and helped to host an impromptu team building gospel sing along lesson.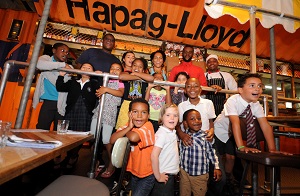 The training process at Turtle Bay is exceptionally intense – even the recruitment involves limbo dancing! But bosses like to ensure the team are kept entertained, and above all happy, and as such decided to enlist the help of local kids to keep the Caribbean spirit alive and well, right up until the doors open.
The choir practiced a couple of their favourite Caribbean-themed numbers and let the team get in on the act.
Management also arranged for the youngsters to be the first to roadtest some elements of the menu, so the kids were the first in London to preview the Turtle Bay experience
The verdict? A VERY big thumbs up from the kids and Gospel Choir leader, Rhoda Marsden, who said:
"The visit to Turtle Bay was absolutely awesome. It was so much fun for the kids to be the first to see the restaurant, which is fantastic. They did a grand job of getting the team in the spirit of things too, and we ALL loved the food. We're all excited for the opening now!"
Turtle Bay restaurant and bar celebrates the lively, colourful, soulful and, above all, delicious experiences that the Caribbean has to offer - from explosive flavours to laid back 'liming'. Their mission? To capture the spirit of celebration that the Caribbean is famed for around the globe - making customers happy by delivering a hedonistic combination of joyous food, delightful drinks and a fun, laidback atmosphere.
Turtle Bay Ealing is set to bring all this and more to West London – the first restaurant in the capital for Turtle Bay. It opens to the public on Friday 3rd October.
1st October 2014