Truth and Reconciliation exhibition on tour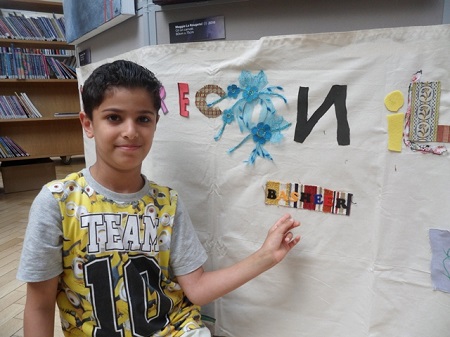 Basheer Alwan at Perivale Library Open Day
Greenford Library is holding an open day as part of Ealing Autumn Festival's Truth and Reconciliation exhibition, with a special reference to Shakespeare in the playwright's 400th year.
The open day at the library on Saturday, July 23 (2-4pm) will include the opportunity to take part in a public collage of the exhibition. There will also be the first chance to look at Roald Dahl in the Summer Reading Challenge with a new quiz to challenge participants about Dahl's books and his life.
The exhibition remains at Greenford Library until August 4, as part of its tour of libraries across the borough this year, and the reading challenge will be held at other venues over the summer.
Festival artistic director Gillian Spragg said: The exhibition's most recent open day at Hanwell Library was a great success with people of all ages coming along to enjoy the paintings and activities.
"The Digital MozArt was again a big hit with visitors and some of the researchers for the project got involved looking into writing new pieces of music using Mozart's clever game."
The festival's exhibition takes an abstract view of Truth and Reconciliation and the paintings have been put together by the Hanwell based 4020 Art Group,
For more details see www.ealingautumnfestival.co.uk or ask at your local library.
Cllr Tariq Mahmood at Perivale Library Open Day
19 July 2016