The travelling lorry is back for a few weeks over summer
We've been waiting for eight years to see a new cinema built in Ealing ...and we're still waiting BUT...
We're getting the travelling cinema in the articulated lorry back for a few weeks.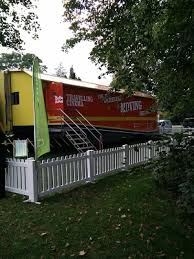 Last year it was parked on Ealing Green but this time round it will be based at LandSecurities develoment site - the site is uneven ( hopefully this won't affect cinema viewing) so the advice is to wear appropriate footwear!
Picturehouse, Make it Ealing and LandSecurities are working together and will be screening a variety of movies from the articulated lorry that magically turns into a 100-seater luxury cinema.
It will be rolling into Ealing from Monday 20 June – Sunday 3 July 2016 and Monday 25 July – Sunday 7 August 2016...
LandSecurities development site next to 57 New Broadway, W5 5AH.
9th June 2016