Raising funds for Dementia Concern
Can you help a local care company with raffle prizes?
Care Concern provide care at home to elderly clients, many of whom have dementia.
On 16th Feb 2015 they're holding a fundraising event for the charity 'Dementia Concern' which provides support and services for carers and family of those with dementia.
This will be the 3rd year running the tea party has taken place.
It will take place at Balcon Court (Boileau Road in W5) 2-4pm.
Maxim's Chinese restaurant in Ealing have donated a top prize as has The Ealing Park Tavern. Care Concern is now on the lookout for any more generous sponsors.
Catherine Gunnewicht from Care Concern says:
''Apart from the money we will raise for Dementia Concern we feel the event enables many older people to have an enjoyable, sociable afternoon and we also feel we are helping to raise awareness of dementia, an illness which is on the increase.
In addition to tea, cake and a raffle, this year there will be a special appearance by popular local Ealing 5 Piece Vintage Girl Troupe "THE BUTTERCUPS".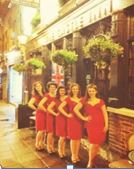 Entrance £5 to include tea and cake/ Raffle tickets £1 per strip
If you can help with any raffle prizes please call: 020 88996123 or email catherine@careconcern.org.uk
6th January 2015