Students taught secrets of Nordic cooking
Students from the University's London School of Hospitality and Tourism had the opportunity to work alongside one of Sweden's most revered chefs last week.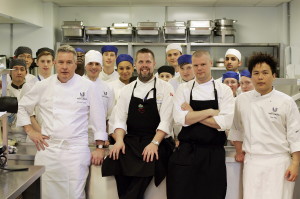 Andreas Hedlund is a previous winner of the Chef of the Year, Sweden's most prominent and renowned competition for professional chefs.
On Friday 4 May the University's fine-dining restaurant Pillars opened its doors to the public for a special serving of a delicious four course Swedish lunch.
Specially prepared by Andreas and the students it was a rather unique dining experience.
I was lucky enough to sample the delightful menu which consisted of an unusual but rather delicious one minute -smoked salmon (which Andreas smokes by hand with a special smoker), green peas, mustard emulsion and sour dough croutons.
The white asparagus with bleak roe was delicate to the palate, light but hugely satisfying.
I oped for the vegetarian main and Andreas told me the veggie style 'burgers' made with chickpeas and cottage cheese were a favourite of many of Sweden's schoolchildren - who he informed me all get free school meals.
Indeed in both Sweden and Finland, free school meals are offered to all pupils. This practice has been in place since 1948 in Finland, and was introduced to Sweden in 1973.

Andreas said he was impressed with the standard the students who now have the opportunity to add to their culinary repertoire by applying for an internship in Sweden.
Sales of Swedish food in the UK have risen by almost 30% in the past years recently eclipsing the more traditional food nations of southern Europe; Nordic food is now amongst the most sought after in the world.
17th May 2012