Community invited to St. Augustine's Summer Arts Evening
St Augustine's Priory in Ealing will open its doors and grounds once again to the local community on Tuesday 1 July when it hosts its Summer Arts Evening.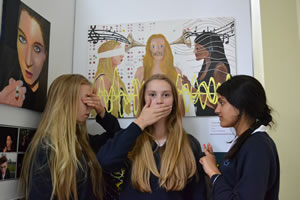 Guests at the event will include Faber New Poet Tom Warner, who will deliver an exclusive poetry reading to the audience. The event is free to attend and will bring local families and arts lovers together to enjoy a culture-filled evening of entertainment.
At the event, students will showcase stunning pieces of GCSE and A Level art. Pupils from Year 9 will also showcase their interpretation of Picasso's famous Guernica mural. The renowned artist originally created the iconic mural in 1937 in response to the bombing of Guernica, a Basque Country village in northern Spain, during the Spanish Civil War and it has long been seen as a reminder of the atrocities and implications of war.
The Year 9 students will take part in a performed debate at the Summer Arts Evening, surrounded by their Guernica interpretation, which comprises 40 individual panels. Parents and guests will be invited to attend the performance on the evening and to explore the debating chamber and mural.
The evening will also see students present a book of poetry, featuring an eclectic collection of their most inspiring work, compiled during a series of workshops under Tom's guidance.
Music performances by St Augustine's students and a showcase of drama from this year's LAMDA (London Academy of Music & Dramatic Art) winners will accompany the GCSE and A Level art exhibition and poetry readings. Guests will also be invited to round off the evening by indulging in food and refreshments on the school's picturesque grounds.
Excited to be back at the event this year, Tom Warner commented, "The girls' poems were received incredibly well by the public at last year's Summer Arts Evening and I'm thrilled to be part of that again this year. They are a very talented group of young girls and the calibre of the poems they produced far exceeded anything I expected from so called 'novices'. I wouldn't be surprised if there are a number of Faber New Poets in the making amongst them!"
St Augustine's headteacher, Sarah Raffray, welcomes the local community to attend the free family event. She says, "Once again, this event is a chance for the whole community to come together to celebrate our girls' impressive creative talent and the high standard of Arts in the school. This year we're really looking forward to unveiling the Guernica piece, which the girls have put a great deal of time and thought into throughout the year, and to give parents, guests and pupils the opportunity to discuss and explore the concepts behind the iconic mural."
The St Augustine Priory Summer Arts Evening is on 1 July 2014 from 6.30pm-9pm. For more information on the St Augustine's Priory Arts Festival, please visit www.saintaugustinespriory.org.uk or call 020 8997 2022.

June 25, 2014