Year 9 pupils unveil their own Guernica mural
St Augustine's Priory School in Ealing opened its doors and grounds to the local community to host its annual Summer Arts Evening.
Guests of honour included renowned Faber New Poet, Tom Warner. The event was attended by dozens of local families and arts lovers who came to enjoy a cultured-filled evening of entertainment.

At the event, students from Year 9 unveiled their interpretation of Picasso's famous Guernica mural, which comprises 40 individual panels.
The iconic Guernica mural was originally created by Picasso in 1937 in response to the bombing of Guernica, a Basque Country village in northern Spain, during World War 2 and it has long been seen as a reminder of the atrocities and implications of war.

Parents and guests were invited to explore the Guernica mural and to watch students take part in a performed debate on the topic of war. The students also showcased their artistic talents through an exhibition of their GCSE and A-Level art work.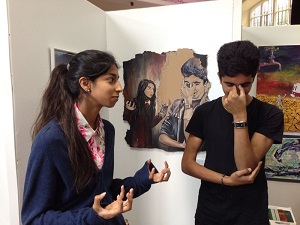 Music performances by St Augustine's students were accompanied by a showcase of drama from this year's LAMDA (London Academy of Music & Dramatic Art) winners, as well as a poetry reading from Tom Warner. Pupils also unveiled their poetry book, featuring a collection of their most inspiring work drawn from workshops run by Tom throughout the year.
Speaking about the poetry produced by the students, Tom Warner commented, "It was fantastic to see how much the guests enjoyed listening to the girls' poetry - the calibre of their work is truly inspiring and I really am impressed with how hard they've worked throughout the year to produce this work. I think that having the opportunity to take part in workshops and to present their poetry to the public has been a great way to bring poetry to life. Several of the girls have a natural, raw talent and I wouldn't be surprised if there are a number of Faber New Poets in the making amongst them."
St Augustine's headteacher, Sarah Raffray, said:
"Once again, the evening was a great success and we are so proud of all of our students and how much time and effort they've dedicated to this over the past year. It was brilliant to see so many parents and members of the community at the event, celebrating the array of talents in our midst and engaging with students to discuss important issues such as war. We're already excited for what next year's Summer Arts Evening will bring!"
3rd July 2014