Sunday 3rd July, 730 pm St Matthews Church Hall, North Common Road
Related Links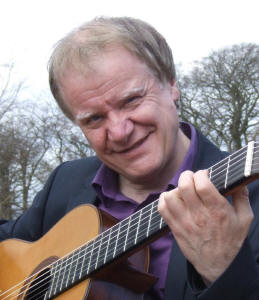 Neil Smith plays Ealing
Sunday 3rd July, 730 pm. Venue: St Matthews Church Hall, North Common Road, Ealing W5 2QA. Admission: £7
Participate
Sign up for our free newsletter
Comment on this story on the
Neil Smith is among Britain's best-known guitarists whose reputation is world-wide. He started life as an engineer for the MoD but soon went on to play for the Mecca and Top Rank organizations in major ballrooms across the UK. There and on television, he worked alongside many stars including George Melly, Freddie Star, The Comedians and Fivepenny Piece, Bob Monkhouse, Edward Fox, Robert Hardy, Jim Bowen, Patty Boulaye, etc, etc.
He studied classical guitar with Madame Adele Kramer (friend of Adolf Hitler and pupil of the great Miguel Llobet) of the Guildhall School of Music in London and the composer John Duarte and theory with the pianist Robert Marsh and he gained a scholarship to study in in Canada with Leo Brouwer and Alirio Diaz at Toronto University in 1975.
His successful debut in 1979 led to tours and BBC broadcasts and a first LP record whichwas Pick of The Month in two journals. He toured Europe and the USSR under the baton of Sir Simon Rattle, appeared at the Scottish Proms directed by Sir Alexander Gibson and later at the Queen Elizabeth Hall and the Royal Festival Hall, and then the new Barbican Hall in a Royal Gala Weekend along with Rostropovich and Andres Segovia.
His US debut drew a standing ovation and he returned coast-to-coast and he went beyond the Iron Curtain to play in massive festivals and also for the Red Army in Transylvania. He has recorded for seven labels and has given classes globally. In 2000, he was honoured to play for Her Majesty The Queen Mother's 100th birthday at her home in Glamis, Scotland.
His travels have become widely known in the music world via his book; HAVE GUITAR, WILL TRAVEL where he documents his life on the road; a Molotov-Cocktail exploded near his taxi in the Belfast Troubles, a killer escaping the Police threatened him with a knife and in the USSR, he found Security Police on his trail due to his former MoD connections.
At one crucial meeting, he was faced by none other than the dreaded Soviet KGB and was placed under city-arrest and threatened with a fine of $12,000. In Rome, he played for the film stars Elizabeth Taylor and also Geraldine Chaplin by request. In Dubai, he played for His Highness General Sheikh Mahktoum. His book is available via the Website known as authorsonline, his CDs from www.thespanglishstore.com. From Western Canada, across the USA, the Atlantic, Europe and Siberia to Japan, his tours have taken him literally round the world.
He is a Fellow of the London College of Music and has been an Examiner for the University of Wales, the University of Huddersfield and a Visiting Tutor and Assessor for the Royal Northern College of Music. For a number of years he was the British representative at the great Cup of The North Festival in North Russia and in 1990 he directed Holland's main guitar festival in Zwolle. Last season he played on Orkney and gave classes in Perugia in Italy and also in Austria and Southern Ireland and recently, he visited Denmark and Norway. He also writes for Europe's largest classical guitar magazine Classical Guitar.
28th June 2011