Locals take part in sponsored sleep-out
Related Links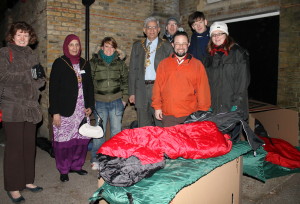 Clare Scott Booth, CEO, West London YMCA; Majeeda Aslam, Mayoress of Ealing; Louise Scott, SleepEasy participant; Cllr Mohammad Aslam, Mayor of Ealing; Stewart Galbraith and Alex Neiora, participants.
Front row: Cllr Gary Malcolm and Sian Phillips, participants.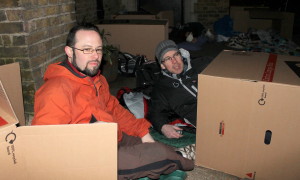 Cllr Gary Malcolm and Stewart Galbraith with boxes
photos courtesy Nadia Nasri
Participate
Sign up for our free newsletter
Comment on this story on the
A group of fundraisers have braved freezing cold weather to take part in a sponsored sleep-out in Ealing.
The event, organised by local youth charity West London YMCA, took place Friday 1 March from 7pm to 7am, in the grounds of Christ the Saviour Church, New Broadway, Ealing. It was officially opened by the Mayor of the London Borough of Ealing Cllr Mohammad Aslam.
The rough sleepers were each given a cardboard box to use as shelter. They also brought their own sleeping bags and layered up with thermals to attempt to stay as warm as possible in temperatures of 2-5°C. Luckily the weather stayed dry and local branches of Pizza Express and Pizza Hut donated free pizza in the evening.
Simultaneously, 50 pupils took part in the same event at Barnhill Community School in Hayes and 25 boys slept out at Harrow School.
The three events were part of an organised national 'SleepEasy' fundraiser which has taken place at various YMCAs across the UK between January and March of this year.
Participant Louise Scott, 36, a volunteer with West London YMCA, said:
'By doing this I was able to get just a small taste of what it's like to be a homeless person sleeping rough. For me, it was on lying down in my dark, cardboard box that the real thinking began. With just a few hours until dawn, I could soon go home to my own bed, but what if, like many rough sleepers, I had no idea when or if that could ever happen again?
'The noise of the traffic and passersby, the deafening chimes of the church bells and the relentless, bone-aching cold made it impossible to get anything but constantly interrupted semi-sleep. Real rough sleepers have to contend with all of this and so much more – such as fear for their own safety - night after night.

The Ealing team raised £2,318 of their £3,000 target.
Donations can still be made at www.justgiving.com/teams/SleepEasyEaling-2013 or by cheques made payable to West London YMCA.
11th March 2013