Thousands enjoy the Skyride in Hounslow
I admit to being a fair-weather cyclist, and a nervous one and I haven't felt confident on the roads for a very long time but that changed today (Sunday 9 August) when my daughter and I joined the Mayor of London's mass Skyride cycle.
Starting at Ealing Town Hall and marshalled by Ealing Cycling Campaign members we knew we were in good hands.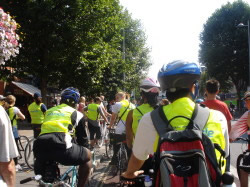 It's so much nicer pedalling along with gangs of others, and car drivers seemed far more respectful. There were many more of us than them for a change - at least 150 from Ealing and thousands more joined at different stages of the route.
There were all sorts of people; old, young, big, small, experienced cyclists and a fair few novices like me. It was great to see families and little ones on their bikes too. Various roads were closed for the day and so we arrived at Osterley Park in no time at all.
It didn't take long before we reached our destination at Syon, we sat down and had a well earned break.

Touring the area on two wheels instead of four made me realise how very lucky we are to live so close to such beautiful parks. Perhaps we will make better use of them in future.
We had perfect weather conditions - sunny with a little breeze - all in all it was a very pleasant trip.
For a rather unfit mum I reckon I did rather well. Despite a few uphill moments I kept moving alongside the younger, fitter daughter and we both really enjoyed the experience. Hopefully we can repeat it again soon - Boris, how about closing the roads to cars once every month?
With many thanks to all the marshals who kept us going en route and to Ealing Cycling Campaign.
Annemarie Flanagan
August 31, 2009